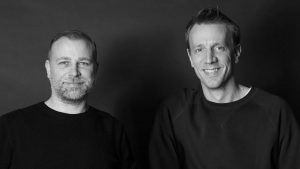 On 1 May, Maarten Vrouwes and Friso Ludenhoff will start as executive creative directors at DDB Unlimited. The locally and internationally award-winning team will take the place of Joris Kuijpers, who, after 16 years at the company, will launch his own agency.
"The agency needs a breath of new, fresh energy," says Kuijpers, who is confident that he is leaving his old agency in good hands.
At the start of this year, DDB Unlimited emerged from a merger between DDB & Tribal, Etcetera and Databay. The agency is part of DDB Worldwide, with data and performance at its heart. It is the first creative agency with a powerful alternative to the hour system: guaranteed results.

Vrouwes and Ludenhoff were previously creative directors at J. Walter Thompson Amsterdam, where they spent seven years working for clients including ING, Opel, Media Markt, Free a Girl, Nestlé and Heineken's Sol beer. They developed a number of award-winning campaigns, such as The School for Justice, Opel Pay with Views, Taste the Translation, Give Holland a Break, and recently The Rembrandt Tutorials for ING Bank.
Frank Huiberts, CEO, DDB Unlimited: "We invest in the most important drivers of results: data and creativity. Maarten and Friso have extraordinary creative talent and also understand how to maximise the potential of data to inform and heighten their ideas. They're the perfect match to lead creativity at DDB Unlimited."
Friso Ludenhoff and Maarten Vrouwes: "Over the past 7 years, we have contributed with great pleasure to the success of J. Walter Thompson Amsterdam and we are very grateful to everyone we have worked with. The opportunity arose to take a new step and we are happy to be able to help build a new agency model with DDB Unlimited. An agency that utilises the possibilities of technology and data, combined with strong creativity in order to help our clients keep moving forward. It's also an agency with great potential, thanks to a very strong team and great clients. We're very eager to get started."
Esther te Pas, MD: "We look back on 16 wonderful years with Joris. For the last 15 years, he led our creative department – together with Dylan de Backer. It was a productive period in which we made distinctive and award-winning work for clients like Volkswagen, Centraal Beheer, KLM, C&A, Eneco, Wolford, Menzis, McDonald's and many more."
Joris Kuijpers, ECD: "I've been an integral part of the team that brought about DDB Unlimited. But for me, after seeing through this successful merger, it's a good time to pursue a long-cherished dream: starting my own agency. Maarten and Friso were at the top of my list for creative succession. I want to thank everyone at DDB Unlimited for all those fantastic years. And I wish the agency and my successors the best of luck in their new endeavour!"
Source: DDB Unlimited