Foot Locker revealed "Thoughts," a new commercial by BBDO New York starring New York Giants wide receivers Victor Cruz and Odell Beckham, Jr., highlighting the brand's back-to-school campaign.
With Cruz recovering from an injury and Beckham, Jr. wanting to extend his rookie success in 2015, both meet up for the first time this season in the training facility. The commercial begins with the wide receivers complimenting each other on their fresh new Nike gear from Foot Locker.
The audience gains insight into Cruz's internal thoughts on Beckham, Jr. joining him on the field. Beckham, Jr., oblivious to Cruz's internal monologue, dishes out hopeful statements about their upcoming teamwork. Cruz smiles, nods in agreement and carries on with his internal commentary. The spot ends with the audience finally hearing Beckham, Jr.'s thoughts that he didn't remember Cruz being this weird.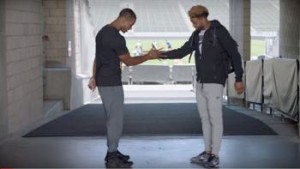 "Both Victor and Odell are competitive and award-winning receivers – perfect picks to highlight Foot Locker's offering of Nike product this back-to-school season," said Stacy Cunningham, Executive Vice President of Marketing for Foot Locker.
"The partnership with Foot Locker has been a great experience for me and I have really enjoyed being a part of their commercials and #CruzDayTuesday," said Cruz. "Being able to work with Odell on this spot was especially fun and we had a great time shooting it."
The spot features a premium assortment of Nike footwear and apparel available at Foot Locker stores nationwide and footlocker.com this back-to-school season.
"I had an awesome time working on this commercial with Victor, who is such an experienced NFL player," said Beckham, Jr. "It was a cool experience and it was great to have some fun off the field."