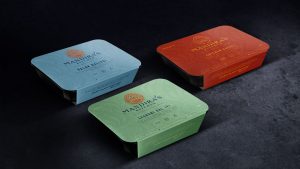 Nude Brand Creation have created the branding and packaging design for a re-launch of Mandira's Kitchen, formally Surrey Spice. As a small business making the step-up and moving to new premises at The Silent Pool in Surrey, Surrey Spice approached Nude to re-brand and re-fresh their identity.
Nude's first challenge was to encourage a name change to better reflect a company that is the inspiration of founder Mandira Sarkar, who originally created all the delicious dishes in her own kitchen from family recipes. The company only use the best local, fresh ingredients and exquisite spices to create both vegetarian and vegan options to their popular meat dishes.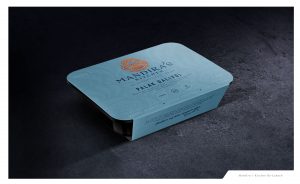 Premium and luxury codes are all about experience and authenticity, and Nude felt the impersonal name of Surrey Spice did not do this story justice! And so, Mandira's Kitchen was born. By adding emotion and personality into the brand name, Nude also opened the door for Mandira by helping consumers to understand that the business is more than just ready-to-eat meals, but like a kitchen, is the heart of a much bigger home that offers cookery classes, personal tours and more.
The new branding was inspired by Mandira's love for saris and includes a decorative logo that has the traditional cooking pot as its central focus. Warm tones represent the heat and fire of the kitchen with spices adding to the intricate decoration. This is combined with distinctive lettering and the tagline of 'Quintessentially Indian', combining Mandira's English home with that of her Indian heritage.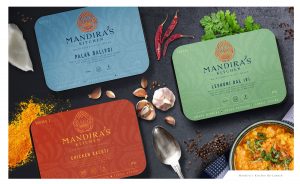 Nude have since developed packaging that re-enforces premium and homemade cues, whilst also changing to sustainable new biodegradable cardboard trays. The identity, which launched May 2019, has been rolled out across stationary, bespoke signage and a new website.
Source: Nude Brand Creation