Paddy Power has released a cheeky online ad – deemed "too fruity" for TV – to promote its new smartphone app, which features a series of men (and women) who appear to be pleasuring themselves in public view.
The 30-second video, created by Lucky Generals, shows characters who are smiling while looking off into the distance while their hands are rummaging around in their trousers while standing on the street, having a haircut, or in a butcher's shop.
It transpires that they are using the Paddy Power iPhone app.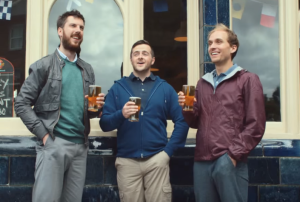 "Pocket jostle" is supposed to convey that the app is so easy to use that consumers can use it in their pocket without looking at their phone – even if they appear to be doing something much more risqué.
Gav Thompson, the chief marketing officer at Paddy Power, said: "The idea of a 'pocket jostle' is a little too fruity for mainstream TV, so this ad is online only, targeted at our adult customers within our own Paddy Power channels. We acknowledge it's a bit close to the bone, but the tongue-in-cheek metaphor of knocking a quickie out in your pocket was just too good not to share. We showed the idea to our customers and they thought it was very funny and very relevant, so we decided to share the joke".
The ad was directed by James Rouse through Outsider.
Danny Brooke-Taylor, the co-founder of Lucky Generals, said: "This is one of those lovely instances where your hobby becomes your job."