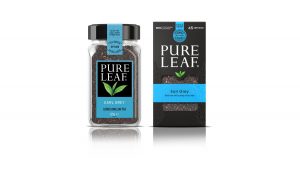 Pure Leaf relaunches its premium teas in the UK and Netherlands, with a global brand and packaging redesign by London agency PB Creative.
Pure Leaf's range of single-origin and blended teas uses ingredients sourced from top producers all over the world and is made in collaboration with the industry's most reputable tea masters. The brand goes to great lengths to source its tea in a sustainable and responsible way, and prides itself on using traditional manufacturing methods to produce the ultimate cuppa.
But it was felt that Pure Leaf's philosophy, brand ethos and provenance stories were somewhat muted on pack and needed to be brought to the fore to elevate the offering and create stand-out, both instore and online.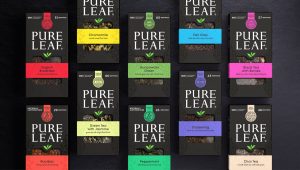 So Pure Leaf approached PB Creative and, in response to the challenge, the team has created a modern, premium design that truly reflects the carefully curated, environmentally responsible and first-class nature of the range, as well as helping it achieve prominence in an increasingly busy category.
One of the first tasks was to move Pure Leaf from plastic jars to a more sustainable carton format – a move that was deemed essential in order to reflect the brand's intrinsic sense of environmental responsibility. The design team worked with packaging partners to create a box structure that increased the scope for brand, variant and provenance expression on pack, highlighting the strong taste appeal across all of the black, green and herbal blends.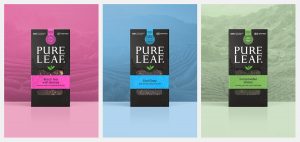 Strategically it was imperative to create shelf stand-out and set Pure Leaf apart from its largely kaleidoscopic competitors. So PB Creative capitalised on the original core brand colour – black – which had taken a back seat to variant shades in previous design iterations.
This approach instantly unified and premiumised the range and created the opportunity for dramatic brand blocking. Vibrant variant colours have been chosen to emphasise individual flavour profiles, as well as create a sense of indulgence and make it easy for consumers to navigate the whole line-up. The black canvas really makes these colours pop and imbues the packs with a sense of luxury and taste appeal.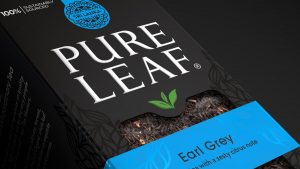 PB Creative has also used spot-varnish finishes and embossing to further denote tea type and give a high-quality tactile look and feel to the pack. And to further celebrate the origin of each variant, the team designed unique box tags with patterns inspired by each tea's source – building on the provenance messaging.
Lloyd Moffat, Creative Director, PB Creative, says: "Building on the story of provenance and everyday premium quality was key to this brand redesign. Pure Leaf wanted to celebrate its story and the amazing quality of its products, which proved fundamental to our new look. We set out to achieve greater brand clarity and stand-out, and the results have an elegant, high-end look and feel."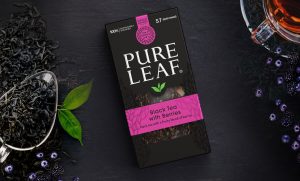 Javier Martin, Senior Global Marketing Director, Premium Tea Beverages, says: "PB Creative has been a breath of fresh air for the Pure Leaf brand. The agency's expertise in 'premium' is exceptional and the ability to convert the brand's positioning into beautiful design is remarkable. PB Creative has great agility strategically and operationally. We are glad to have them as our design agency partner."
Source: PB Creative