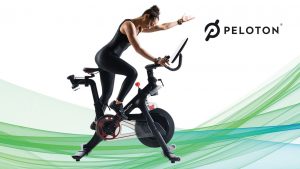 Peloton, the global technology company reinventing fitness by bringing live and on-demand boutique-style studio classes to the convenience and comfort of your own home, has appointed Blacklist Creative as its Production Studio consultants, assisting with the set-up, staffing and operation of Peloton's broadcast production studio in London.
The multibillion-dollar technology company sought the expertise of independent production specialist Blacklist Creative to support the brand's London production launch.
Using its revolutionary indoor Bike, Peloton beams out 14 daily live – and 10,000+ on-demand – immersive cycling classes, meaning Peloton members can enjoy the intensity and excitement of classes taught by the world's best instructors without leaving home. After enjoying enormous success in the US during the past few years, Peloton launched in the UK – its first international market – in September 2018. Peloton has opened multiple retail showrooms across London and, on 13thNovember 2018, debuted cycling classes produced in London by Peloton's first UK-based instructors, Ben Alldis and Leanne Hainsby, to its 1 million members worldwide.
Pete Flamman, Peloton's VP of Content, UK and EMEA, comments, "Peloton has a loyal and fast-growing community of members in the US who love our high-quality live streamed classes. Our UK launch content had to meet the high standards of the Peloton US productions and our new London-based instructors, Ben Alldis and Leanne Hainsby, have introduced a UK flavour to our global audience. During our partner selection process, I was immensely impressed with Blacklist Creative's extensive production experience, professionalism, dedication to providing a seamless service and understanding of our brand."
Lola Gamester, Head of Production of Blacklist Creative, adds, "Peloton has transformed the fitness market in a really short time with its innovative technologies and its compelling streaming fitness classes, enabling people to get a fantastic workout from home. This is a great opportunity for Blacklist to showcase our capabilities working for a business which is transforming fitness, and for which top quality video provision is a key component of its service."
Source: Blacklist Creative