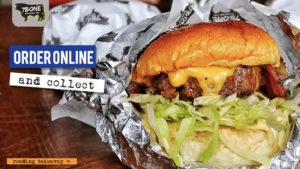 7Bone Burger Co, the American-style restaurant that encourages guests to 'Talk Dirty with Us' has launched its own click and collect online ordering platform with the support of Preoday.
Roll-out of the new platform is initially planned at the restaurant's Reading branch and customers can order online through the company's website. Following a successful introduction the team will have the option to extend to other branches as well as launching a complimentary pre-ordering mobile app.
In 2014, the founders of 7Bone in Southampton appeared on BBC's The Restaurant Man. The founders Matt and Rich, with their great passion for burgers and American food, knew they had hit on a recipe for success. Aware that service and operations are just as important as taste, they used the show to demonstrate their determination to optimise all aspects of the business, bringing every element together to make their restaurant experience an excellent one.
This positive attitude, a willingness to embrace with technology trends and the pursuit of perfection has served 7Bone well. Today the team is celebrating the launch of its sixth venue in the south of England as well as its reputation as one of the country's edgiest, coolest burger chains.
Rich Zammit, 7Bone, Co-Founder, comments: "This restaurant industry is continuing to evolve, especially now customers are more tech-savvy. Our goal is to keep delivering customer value and in doing so, strive to make it as convenient as possible to order takeaway. This has led us to partner with Preoday. With our growth plans in full swing we are excited to have them join us for the ride and provide us with a technology platform that will help customers order takeaway for collection, online, at the click of a button!"
Andrew White, CEO of Preoday, adds : "The strongest restaurants are those that focus on building a knowing relationship with customers. 7Bone is doing that with Preoday's ordering technology. It is a modern restaurant for a modern generation and is rightly adopting the technology customers expect. Furthermore, it can now use Preoday to gather the data is needs to keep customer satisfaction at a peak. We are delighted to be working with a team of entrepreneurs that clearly cares about the needs and wants of its customers and which have the vision and the attitude to take their business forward."
Source: Preoday