Modern day surrealist, Quentin Jones, in partnership with Vouge, completes captivating new fashion film celebrating the new era of Rome's St Regis Hotel, with post-production by Big Buoy.
Rome. The Eternal City. Home to Italy's most prestigious fashion houses and a cultural hub for aesthetics and beauty. The St Regis Hotel, complete with Belle Epoque décor and stunning views of the Baths of Diocletian from the hotel's popular Bottega Veneta Suite, epitomises true Italian splendour. Throw in an Italian supermodel and a world class ballet dancer and there you have it. The paradisiac set up for an avant-garde fashion film to be exhibited within the hotel itself.
Our heroine, dressed from head to toe in haute couture creations from Italy's most fabled fashion houses, roams from floor to floor via the hotel's ornate, wrought iron 19th century lift, in a flurry of tulle, ruffles and feathers. The extravagant styling mirrors the gilded glamour of the hotels' interior, as new friendships are formed, our protagonist dancing throughout the Grande Bar and Ballroom with various staff members in a dream-like narrative.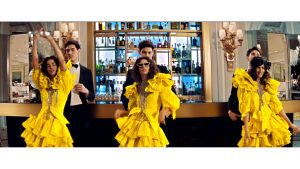 Director, Quentin Jones, comments: "It was really fun playing with time-shooting things in one direction, knowing that I would reverse the footage in the edit sometimes. So, in that way, you also play with gravity and cause and effect. It was an unusual project because it was quite post-heavy, but also location based. Usually, the sorts of effects I was playing around with are applied to studio-based footage. Big Buoy were amazingly supportive in the process, and I was really impressed by how polished the piece was after the grade and flame process."
Big Chop Editor, Shaun Gardiner, notes that the most enjoyable part of his role within the project was 'throwing the 'editing' rulebook out of the window, explaining: "I had a lot of freedom to play around with the footage and try some crazy and fun things. It was a great experience working with Quentin on a film that had so much creative freedom, allowing me to really question the parameters of what can be achieved in an edit."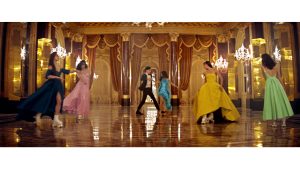 Big Buoy Colourist, Mark Horrobin, adds, "This was a particularly enjoyable job as the protagonists' journey took us through a number of different environments, each requiring its own particular feel.  We tried to maximise colour whilst nodding toward a slightly nostalgic look. The hotel provided quite a bit of opulent set design, so we tried to maximise the richness of this where possible."
Source: Big Buoy