Global athletic footwear and apparel company Reebok has appointed MKTG to stage a hard-hitting experience in partnership with Sports Direct in London on March 15, to promote its association with the UFC and its UFC Fight Night Collection.

Ahead of the UFC Fight Night event at London's O2 on March 17, Reebok is inviting aspirational mixed martial arts fighters and fans to test their punching prowess at the punch-bag at the flagship Oxford Street branch of Sports Direct.
As part of the one-off "Reebok Knockout" experience customers will also have the chance to win one of five VIP packages to the UFC Fight Night London event.  As participants attempt to emulate the skills of successful Reebok sponsored professional fighters such as the UK's Michael Bisping, a 180° bullet camera rig will film a GIF for the individual to share on social.
In keeping with the high intensity atmosphere and entertainment of a major UFC event, a line-up of DJ's will create the soundtrack in-store, blending modern and old skool hip-hop, rock and grime classics, while an MC will be on hand to commentate on the day's events and encourage supporters and participants in the Reebok Knockout challenge.
Customers will also have the chance to get their hands on the latest Reebok UFC Fight Night apparel and merchandise through on the spot give aways.
A pre-event awareness campaign has been running throughout this week, including a campaign featuring UK-based UFC influencers shouting out the experience, while London-based MMA and boxing gyms have been signed up to promote the experience to members through direct comms and an in-gym ad campaign.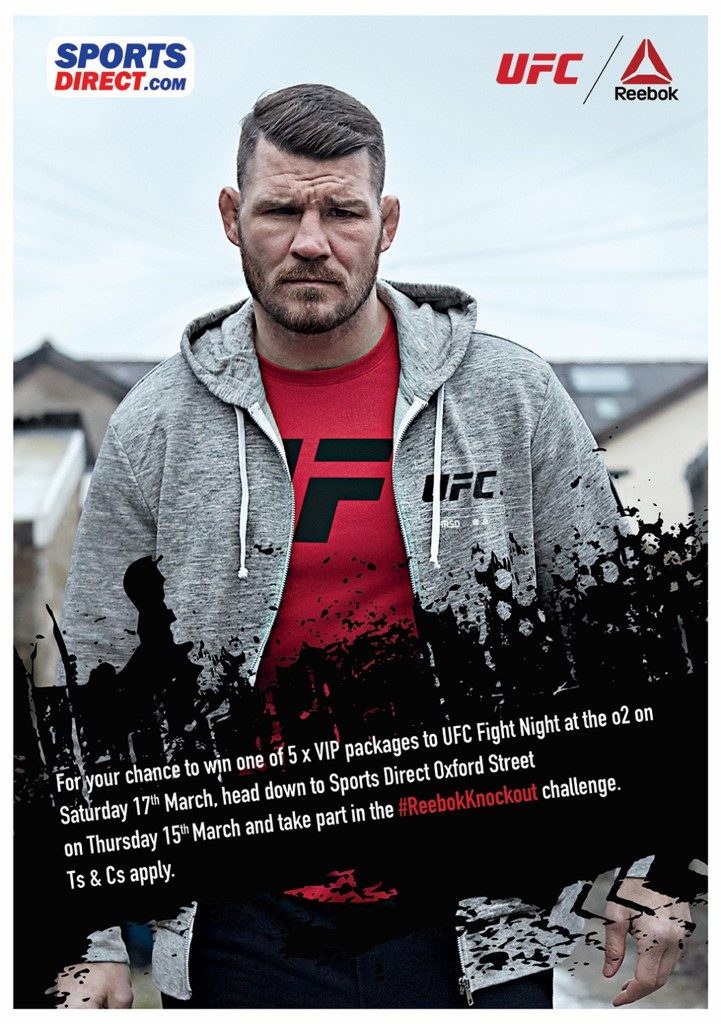 Joanna Hodgetts, Brand Activation Manager at Reebok, said: "We are extremely proud of our Official Reebok UFC Collection and wanted to bring a little bit of the UFC action to the high street.  As UFC Fight Night makes its hugely anticipated return to London's O2 this weekend, we wanted to amplify our partnership with an engaging experience at Sports Direct that gives fans the chance to win a VIP package and grab their official UFC gear at the same time."
Gary Whelan at MKTG, added: "We are delighted to have been appointed by Reebok to work with Sports Direct to bring the brand's association with UFC to life with this knock out retail experience.  This activation is part of our continued strategy to bring our learnings from designing and activating big brand experiences to drive footfall into the retail environment, improve the in-store customer journey, and increase customer dwell time for retailers and brands."
MKTG is responsible for the event concept, development and production, influencer and gym partnerships and competition management.
Source: MKTG