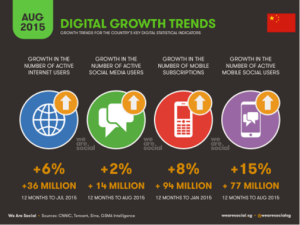 The latest report in We Are Social's series of studies into Digital, Social & Mobile use around the world shows that the pace of digital adoption in China shows few signs of slowing.
Internet in China
The research shows that roughly 100,000 people in China started using the internet every day over the past year –more than one every second.
According to We Are Social, growth is being driven by improved mobile access, with close to 90% of the country's netizens using mobile devices to access the internet.
PC-based access still dominates, with 56% of the web pages served to China's netizens in the past month going to laptop or desktop computers. However, this figure is down 29% year-on-year, while the number of web page requests from mobile devices has jumped 136% to 42%.
Social Media in China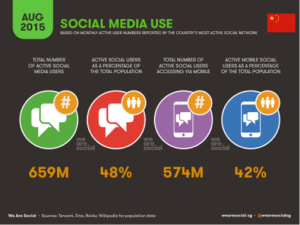 The overall number of social media users in China grew more slowly than expected over the past year, but this is more likely due to a change in behaviour, rather than a waning of interest in social media.
Tencent's QQ instant messaging service still claims the country's top position in terms of monthly active users (MAUs). Despite the vast majority of its users residing in China, it also claims the second-place spot in the worldwide rankings behind Facebook (click here to read more about the global picture).
QZone still dominates when it comes to traditional 'social networking', but WeChat is quickly catching up, and is the platform that most users claim to use on a regular basis (note the difference between 'use' and 'sign in', the latter being the metric many of the platforms use to measure 'active' users).
Interestingly, Facebook, Google+ and Twitter all appear on this list, despite being officially 'blocked' by the Great Firewall. This suggests that a considerable number of China's netizens are getting round these blocks to access non-Chinese social platforms.
Mobile in China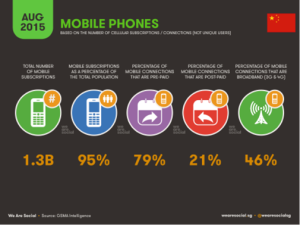 With 675 million unique subscribers in China, almost half the country's population now owns a mobile phone. It is expected that the country will pass this milestone before the end of 2015.
The number of mobile subscriptions in China rose significantly in 2014 too, with three new subscribers every second contributing annual growth of 94 million – an 8% year-on-year increase.
The number of mobile subscriptions in China is now very close to the number of people living in the country, which suggests that the average user still maintains close to 2 active connections.
However, it is expected that this ratio will reduce over the coming months as more people upgrade from feature phones to smartphones, which account for 90% of new handset sales.
China's mobile users also appear to have embraced m-commerce, with reports suggesting that 20% of the country's population have made a recent online purchase via their mobile device.
E-Commerce in China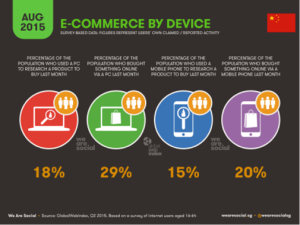 E-commerce more generally appears to be thriving in China, with almost one in three internet users buying online each month.
The country's consumer e-commerce market was worth more than a quarter of a trillion US dollars in the six months to June 2015, with the year's biggest shopping event – Singles Day – still to come. Sales on Alibaba's various sites exceeded US$9 billion in just one day last November, and there's every chance that number will pass $10 billion on 11 November this year.
Conclusions
Simon Kemp, regional managing partner, Asia at We Are Social and author of the China report, shares three key tips for non-Chinese marketers looking to make sense of the world's largest consumer market: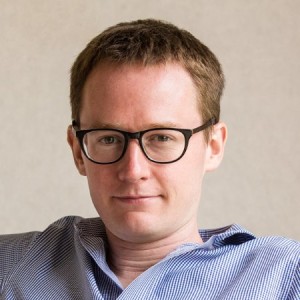 China's Different: it's obvious that the platforms that dominate in China are markedly different to those that marketers are familiar with elsewhere – even those in their Asian neighbours. However, it's not just the platforms that are different; the ways that Chinese netizens use social channels is also markedly different, and marketers need to carefully adapt their approaches for China's cultural and societal idiosyncrasies as much as for its technological differences. One size does not fit all when it comes to China, and marketers would do well to engage the expertise of a local partner who truly understands the 'how' as well as the 'what'.
One-To-One Social: The numbers in this year's report highlight the growing popularity of chat apps – a trend that we've seen elsewhere in the world too. The growing popularity of chat apps presents a new set of opportunities and challenges for marketers, as many of the conversations on these platforms are more private in nature, taking place between individuals and small groups (versus the public environments that Western marketers will know from Facebook and Twitter).
In order to take advantage of the 'intimate' nature of these one-to-one conversations, marketers will need to explore new approaches to social media and content marketing, ensuring that the tactics they employ make it easy for audiences to find and consume content on one platform (e.g. video-sharing services like Youku or Tudou), and then share that content proactively via these chat apps. This will require greater emphasis on highly engaging content and organic sharing, rather than an approach that relies on paid media to push mediocre content to the masses.
Social Selling: China's netizens are already very comfortable buying things online, whether that's through their PCs or via their mobile devices. The next big opportunity for marketers is to understand how the dynamics of social referral work in China, and use that to move from social engagement to social conversion.