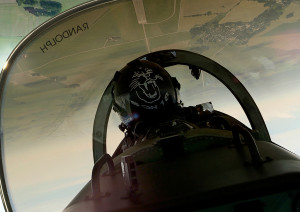 Randolph Engineering, the iconic handcrafted American eyewear brand founded in 1972, is giving us a glimpse of the world as seen through a pair of Randolph sunglasses for a new campaign.
The "Seen It All" campaign, created by RKCR/Y&R, is inspired by the fact that many of the world's most dramatic events over the last forty-four years have been witnessed through a pair of Randolph aviators.
The campaign kicks off with a series of print and outdoor ads launching this week, followed by an online content film in April.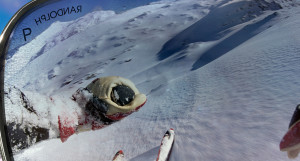 The three print ads, called "Aviator", "Raptor" and "Hawk", show a pilot flying upside down, an off-piste skier, and a soldier climbing down a rope from an aircraft. These adrenaline-inducing situations are captured as though the viewer is looking directly through the lens.
In a bold statement, the only branding in the campaign is the word Randolph as it would appear to the wearer of the glasses, backwards, to create an immersive image.
There is no pack shot, no copy and no endline, just a perspective on the world made even more dramatic by the fact that it is viewed through the lens of the iconic glasses.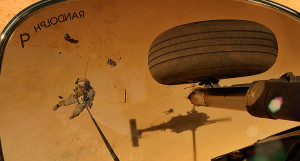 Mark Roalfe, Executive Creative Director and Chairman, RKCR/Y&R: "Randolph glasses are an American icon. Their story [manufacturing Mil-Spec Aviator sunglasses for the United States Air Force] is unique. These ads are designed to echo that iconic status and brand heritage with clean and striking visuals that really draw the viewer into the Randolph world."
Sarah Fawle, Director of Global Marketing, Randolph Engineering: "Randolph's glasses are engineered, not just manufactured, and are world-famous for their military-spec toughness and quality. Our authentic classic aviators are worn by pilots, soldiers and world adventurers and we feel the new 'Seen It All' campaign captures this sentiment in its entirety."