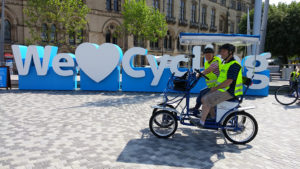 Creative agency RPM is teaming up with Sky and British Cycling for the eighth consecutive year to deliver the final series of their cycling initiative, Sky Ride.
Launched in 2009, the multi-award winning campaign has seen 96 events to date, with a further twelve planned in this final year.
2016 is set to be a landmark year with Sky Ride set to host its one millionth participant. This year's events will be a true celebration of what Sky Ride has achieved by helping people all over the UK come together and fall in love with cycling. The events promise to be fun-filled days out for the whole family with plenty to see and do on and off the bike.
Cyclists of all ages and abilities are encouraged to come and enjoy the unique experience of riding the traffic-free streets of their city. With guest appearances over the summer from Sky Ride ambassadors Sir Chris Hoy MBE and Denise Van Outen.
Participants can visit street food vendors in 'Eat Street' or enjoy a picnic whilst catching the best cycling content on the big screen. There will be cycling-themed gameshows with loads of prizes to be won, and a photo booth to capture memories of the day.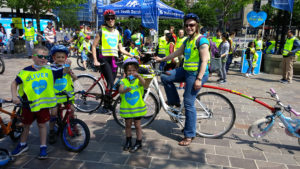 The young and young at heart can check out the Extreme Mountain Bike show. Younger Sky Riders can get involved in custom bib printing and demonstrate their artistic flair with bib and bike decorating.
Bradford will host the first Sky Ride event of 2016 on 5th June, with the final event taking place in York on 11th September.
Dom Robertson, Managing Director, RPM said: "RPM is immensely proud to continue its long association with Sky and British Cycling in helping to transform the face of cycling in Britain. Sky Ride is a project that we have been involved in since its inception, and one that proudly exemplifies how experience-led campaigns can change consumer behaviour. As Sky moves into a new phase of its cycling strategy, we look forward to continuing this journey with them."
Ian Murray, Interim Head of Brand, British Cycling and Team Sky added: "2016 is a massive year for Sky Cycling, as we look forward to hosting our one millionth Sky Ride participant, we have high hopes for Team Sky in their pursuit of a fourth Tour de France win in five years, and like the rest of the country we'll be cheering on all the British cyclists in Rio.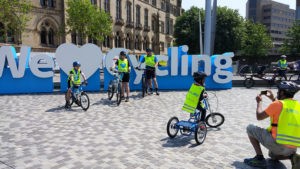 This being the eighth and final year of Sky Ride big bike events, we look forward to going out on a high and are focused on working with RPM to make this year's Sky Ride events a celebration of everything our ground-breaking partnership with British Cycling has achieved throughout the years."
The events will be taking place over the summer at Bradford, Southampton, Bristol, Sheffield, Leeds, Coventry, Ipswich, Liverpool, Leicester, Glasgow and York.