In partnership with the Lillehammer 2016 Winter Youth Olympic Games, as the mobile sponsor of Olympics, Samsung takes ski jumps to the next level with Gear VR in 360 degrees of virtual reality.
The 4D VR experiences will be available to the public during the Winter Youth Olympic Games from February 11th to February 21st at the Samsung Galaxy Studio (Stortorget) and VR Bus (Stampesletta).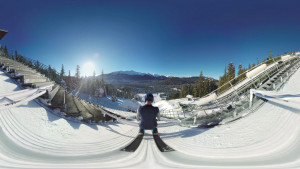 The "Ski Jump VR" campaign, devised by Cheil Worldwide, features a 360-degree VR video taken from the point of view of an expert skier at the Games.
Fans can virtually participate in the event by wearing a Samsung Gear VR headset and sitting in a motion chair synched to move in time with the action in the VR video content. Sensory wind machines are incorporated into the experience to make audience actually feel wind on their faces when they are virtually ski-jumping – taking them to next level of virtual reality.