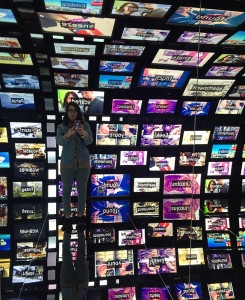 Samsung recently opened the doors to Samsung 837, the brand's answer to the Apple Store. Located in New York's Meatpacking District at 837 Washington St., the three-floor flagship isn't so much a store—you can't buy anything there—but a "marketing hub" for the brand.
"[What] we've created is a playground where people can connect with Samsung technology, with our products, with our services in an interactive and immersive way," said Marc Mathieu, chief marketing officer at Samsung Electronics, North America. "We believe that this is the way the store of the future ought to look like."
The point of the flagship, which was designed by Wonderwall and Samsung's in-house design team, is not only to give consumers who haven't touched or played with Samsung products a place to do that but also to give those consumers a chance to personally experience the brand.
For instance, there's a gallery within Samsung 837 that showcases technology-based installation art. Currently, there's "Social Galaxy" (see above), which was created by Black Egg, the experiential design arm of Kenzo Digital.
The exhibition, which is being promoted as an "exploration of social identity," has attendees walk through a mirror-filled tunnel while photos from their personal Instagram accounts fill the room. It's an individualized, surreal experience meant to make you consider your identity online as well as in the real world. To do so, you have to punch your Instagram account info into a Samsung Galaxy phone, meaning that to participate in the experience, you interact with the Samsung brand.
"As the future of traditional retail comes into question, I think these kinds of brand-experience spaces are going to be a key means of connecting brands with people," said Kenzo Digital, freelance creative director and founder of the immersive storytelling agency of the same name. "These kinds of organic, one-to-one interactions are the best way to connect with your consumer, but only if they are smart, well executed and organically integrated."
That's just one example of how Samsung will use experiential marketing within the multipurpose Samsung 837.
"We've learned what works and what doesn't work [in experiential marketing] through a lot of those activations—[at Sundance, South by Southwest, the Olympics]—and so this is really the culmination of all of those learnings," said Zach Overton, vice president and general manager of Samsung 837.
The flagship also houses a virtual-reality tunnel, studio, kitchen, playroom, living room, cafe, three-story screen and main stage, all meant to give consumers personal experiences with the brand. There's a customer care center, too.
"We designed it to redefine how people discover new experiences in the digital age, creating a shift in storytelling from technology and product features to a much more personal experience that creates meaningful value for people," said Mathieu. "837 showcases how brands must relate to consumers in the connected age, seeking interaction, not transaction."
But the physical presence of the Samsung brand in New York isn't just about consumer interactions with the brand. According to Mathieu, Samsung 837 serves as a "global center of excellence for marketing."
"It creates an amazing opportunity for us to foster and attract some of the best marketing talent from around the world," he said.
"It also creates some kind of acid test of whether the quality of the job of these marketers is actually enabling the Samsung brand to truly see that intersection between technology and humanity and to truly, through technology, enhance people's everyday experiences and improve their everyday lives."