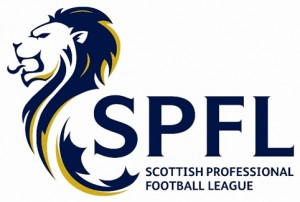 Glasgow based Material_UK has helped the Scottish Professional Football League rename and rebrand its divisions.
n June The Scottish Premier League and Scottish Football League merged to form the Scottish Professional Football League.
The newly formed organisation has unveiled its identity alongside the new league logos.
The new identity brings together elements of the SPL and SFL identities, to create an icon which merges a football and a lions head.
The Scottish Premier League has rebranded as The Scottish Premiership, The Scottish First Division has become The Scottish Chamionship, while the old divisions two and three are now Scottish League One and Scottish League Two.
Ex-Scotland footballers Graeme Souness and John Collins unveiled the new SPFL brand at Scotland's national stadium Hampden Park.
Material_UK says, 'We are delighted that we could represent both of the previous companies within the new merged identity. By using the ball from the SPL and the lion taken from the SFL logos, we have created a clear and contemporary representation of the merged bodies within the new logo, which portrays their shared vision for the future.'
SPFL Chief Executive Neil Doncaster says, 'A mountain of work has been done over the summer to get to this point and I believe there is much more that can be done.'
'The new branding sets a new identity for the future of Scottish professional league football. The new league set-up reflects very much the recommendations Henry McLeish made in his report for the future of Scottish football.'
Souness says, 'I think it looks fantastic. A lion shows that you're strong and fear no one, and the colours are a perfect representation of Scotland.'
A new SPFL website will be launching at the beginning of August.
Brand guidelines for the new branding can be viewed here.