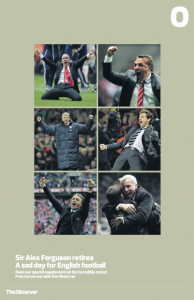 The Observer moved away from mournful coverage of Sir Alex Ferguson's retirement as manager of Manchester United in its promotion of a 12-page supplement and opted for a more light hearted approach.
In a campaign from Bartle Bogle Hegarty London, promotional material took on a tone of "playfulness and wit" and imagined the reaction of less than mournful opposition managers.
A statement from BBH said: "The majority of editorial and advertising content surrounding his retirement had been sincere, reflective and almost mournful. After all, the game was losing one of its most successful and enduring characters.
"In the spirit of 'the whole picture' – born of welcoming different points of view – we challenged the creatives to find a different angle on communication Sir Alex's legacy."
A BBH promo ad showed Premiership managers such as Arsenal's Arsene Wenger, Paulo di Canio of Sunderland and just-sacked Manchester City manager Roberto Mancini in celebratory poses.