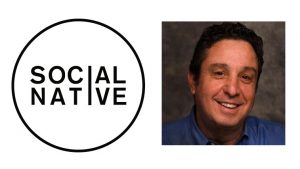 Social Native, a platform that helps brands enhance their marketing with high performing creative, has announced the appointment of Hemi Zucker as the company's first independent board member.
Zucker's experience in business growth and expansion will support Social Native's rapid development as it solidifies its footprint in the content landscape by giving brands access to unlimited content – in every format, for every channel.

"We're excited to welcome Hemi to our board as we continue to grow Social Native and expand our presence," said David Shadpour, CEO at Social Native. "Having built a multi-billion dollar company, spearheading 161 acquisitions, Hemi will bring a strategic vantage point to Social Native as we seek to strengthen and grow our portfolio and add capabilities well beyond social content."
Zucker currently serves as a general partner and managing principal at OCV Partners, a $260 million LA-based venture fund that invests in, owns, and operates companies in the information technology, e-commerce, media & telecommunications, life sciences & healthcare, and clean technology sectors, with the objective of creating sustainable long-term value.
Prior to OCV Partners, Zucker served as the Chief Executive Officer of j2 Global, a cloud services and digital media company he helped found in 1996. During his tenure, he led the company's IPO and grew the company to over $5 billion market cap, with an annual revenue run-rate reaching over $1.25 billion.
Zucker has served and is serving on multiple boards, including LegalZoom, CloudShare, Invoice2Go, and SmartClixx, and is also invested in several funds with a focus on IoT, big data and ad-tech.
Zucker explained, "Social Native is uniquely positioned within the creative industry to rewrite the relationship brands have with content. Since inception, they've worked with over 300 brands and created hundreds of thousands of images and videos for social media. It's now time to take the learnings and apply them to all content formats – written, audio, virtual, etc. – and all channels – email, eCommerce, OOH, packaging, etc. – to solve the content needs of brands everywhere. I couldn't be more excited to apply my growth and acquisition experience to help take Social Native to the next level."
Source: Social Native