SSE, the UK's broadest-based energy company, kicked off a week of activity in the run up to a special one-off show by rock band The Who with a life size game of Guess Who at Waterloo station in London.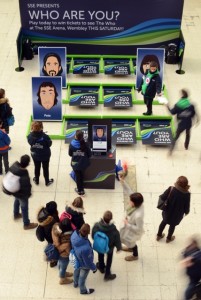 The game renamed 'Who are You?' after the band's iconic song was created by the brand's agency Material_UK.
Commuters had the chance to try out the lifesize game, to win tickets to the gig which takes place at the SSE Arena, Wembley February 13.
This will be the band's first UK show since Roger Daltrey's illness forced the band to postpone their US tour, he's said of the show: "Who'd have thought that fifty years on from from first playing at Wembley Arena with the Beatles and many of the top groups of that time, The Who would once again play at this legendary venue. It's great to be feeling much better after my illness. I'll be fighting fit by then and I can't wait to get back to work."
Credits:
Creative Agency: Material_UK
Production: Dan Cotter, Gemma Ross
Account Director: Claire Snedden
Account Manager: Katie Baptie
Creative Director/Artwork: Lynne McBean