Stein IAS has seen-off strong competition from its consumer counterparts, to be crowned 'Large Creative Agency of the Year' at the 2017 MPA Awards, which honours excellence in Manchester's creative, digital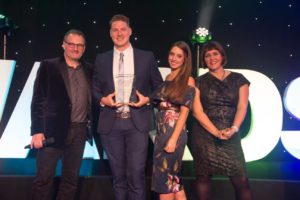 and media industries.
Reuben Webb, Chief Creative Officer at Stein IAS, commented: "B2B has a reputation for safe, uninspiring work. But the reality is, you don't have to be 'off-the-wall' to be creative, you can still have inspiring ideas grounded in the context of a business. It is this that makes B2B the most challenging marketing field to work in. Anyone can get their head around crisps and sweets, but how about chemical engineering?
"To come away with the coveted 'Large Creative Agency of the Year' accolade, demonstrates why B2B creatives represent the pinnacle of marketing talent. What's more, it's testament to our belief that as we enter marketing's Post-Modern age, it is vital that marketers establish a necessary correction of the balance, between the intuition and emotion of the 'Mad Men' era and the science and technology of Modern Marketing."
Source: Stein IAS