Swedish creative agency Stendahls, have unveiled the 'world's most boring billboard' for Sioo:x.
Sioo:x Wood Protection gives outdoor wood surfaces a beautiful, natural silver-grey hue and keeps them protected for twelve years. It's also 100% environmentally friendly – which is revolutionary.
But twelve years' worth of protection is almost too good to be true and Stendahls' mission was to prove it is for real. So they created a billboard made from real Sioo:x-treated boards and booked a triple-sided billboard for twelve years in Malmö, Sweden.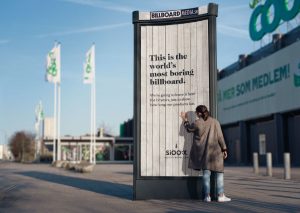 "We got the idea from the movie Three Billboards Outside Ebbing, Missouri where Frances McDormands character buys the media space of some billboards for a very long time. We thought that it would be the perfect way to prove that Sioo:x really lasts for as long as they promise – which is twelve years. The challenge was to find a billboard at a relevant location, that we could afford with our very tight budget. But we got lucky," said Mikael Andersson, Copywriter at Stendahls.
Credits:
Advertising Agency: Stendahls, Sweden
Chief Creative Officer: Martin Cedergren
Copywriter: Mikael Andersson
Art Director: Josefin Thor
Account Director: Jens Flensburg
Production Manager: Anna Lotto
Film photogragher: Jens Dohnberg
Graphic designer: Samuel Forsström
3D Artist / Motion: Carl Björndal
Source: Stendahls