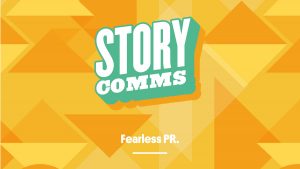 Birmingham-based public relations agency, Story Comms, on December 6 unveiled its new brand identity as it celebrates a record twelve-month period and makes plans for significant growth over the next three years.
The four-year-old firm saw a 50% increase in revenue between 2017 and 2018. Buoyed by a collection of new client wins including award-winning mobile-payment firm PM Connect, Leicester City Council, world-leading engineering consultancy WSP and West Midlands Combined Universities, Story Comms' new brand will see the business focus on supporting regional, national and international brands across professional services and placemaking.
Delivered by local branding agency ORB and web design company Lightbox, Story Comms' transformation includes the launch of a new website, logo, office fit out and core values.
Amanda Lowe, founder and managing director of Story Comms, said: "Originally set up to challenge London's grip on the PR market, Story Comms is an agency founded on breaking the mould. This rebrand encapsulates our key values of honesty and fearlessness, while also carving out a future for the firm on the national stage. Our pursuit of solid growth will be relentless. With the support of our incredible clients and talented team, we know that nothing is impossible."
To support its growth ambitions, Story has appointed a new director, Gill Holtom, who arrives at the firm after holding a number of leadership roles across Midlands agencies. Vicky Malone has also joined from WAA Chosen, bolstering the senior leadership in her new role as junior account director.
The new hires take the firm, which was voted Outstanding Small Public Relations Consultancy 2017 by the CIPR, to its biggest ever size.
With an eight-strong team in place and to accommodate plans for significant recruitment in 2019, Story Comms has also upgraded its office space at the £1million Alpha Works creative space in Alpha Tower. The new office has been fitted out in the new brand, providing an energetic and colourful environment for the ambitious Story team.
Gill Holtom, director at Story Comms, said: "I'm thrilled to be joining the Story team at such an exciting time. Story has established a fantastic reputation in the Midlands through sheer hard work and the strength of its team. The new brand represents the ambition the business shares to go even further in 2019 and beyond."
Source: Story Comms