A video was launched celebrating the fifth year of a transatlantic collaboration between Jay Z's Shawn Carter Foundation (SCF), the University of the Arts, London (UAL), and New York brand design agency Vault49.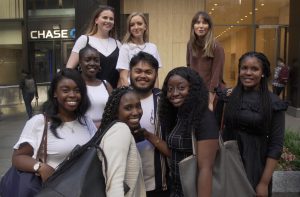 The NY-LON Exchange Program gives students from low income backgrounds studying in London and New York who are the first in their families to attend university an opportunity to work together on collaborative projects and broaden their creative networks.
This year's exchange brought together nine students, who were given a creative brief to work on over several months, culminating in a week collaborating face-to-face in London and another week in New York. This year's challenge was to come up with a creative campaign to connect Ford Motor Company with millennials.
Vault49 became partners of the program in 2015. Agency founders John Glasgow and Jonathan Kenyon, who are both former students of the London College of Communication, which is part of UAL, host the students at their New York studio during the US half of the program. They also provide financial support and design expertise to the project.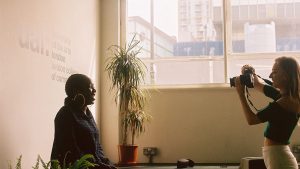 John Glasgow, who attended a recent screening of the documentary at UAL, says: "Without UAL, Jonathan and I would never have met and there might have been no Vault49. Getting involved with the NY-LON program seemed like a fantastic way to show our gratitude and give something back to the college – and to offer creative students from backgrounds just like ours a chance to gain experience, to travel and to build contacts and collaborate. The quality of the work they produced is incredibly high – I know Ford loved their ideas. But beyond that, the program opened the eyes of a talented group of students to the exciting possibilities of a creative working life, and that's priceless."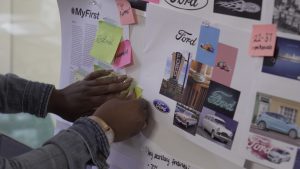 UAL project director Lawrence Lartey says: "It's been a fantastic year for the NY-LON program – the best yet I think. The students had much longer to work on the brief before the exchange weeks, so they were ready to hit the ground running in London and New York. They spent a week in London researching their topic, studying the market, looking at audiences and so on. Then they traveled to New York, where they spent a week in the Vault49 studios, using the brilliant design and production facilities there to work on their ideas and turn them into something real. The group gelled quickly and worked very well together – it was great to see. There aren't many organisations willing to invest the time and resources it takes to put together a program like this – it's a real commitment to creativity, and to diversity and inclusion. UAL, the Shawn Carter Foundation and Vault49 should be applauded for supporting it."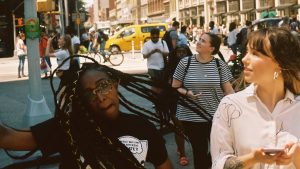 The NY-LON program came about from a conversation in 2013 between Lawrence Lartey and music icon Jay Z about how UAL could collaborate with Jay Z's Shawn Carter Foundation to give students a chance to travel the world and have new cultural experiences. The Foundation was set up in 2003 by Jay Z and his mother, Gloria Carter, who is its President and plays an active role in the NY-LON program.
Source: Vault49