India's largest truck manufacturer, TATA Motors, has ensured that the country's economy moves forward by equipping every trucker to stand on his feet. They are now doing the same thing with Indian sports: ensuring that the country's sporting story moves forward by nurturing people who will make our country proud on a global stage.
TATA Motors is at the forefront, promoting Wrestling and Kabaddi in the country and encouraging its sportspersons – both professional and at the grassroots. This association is one of the biggest non-cricket associations in the country, where TATA Motors – India's largest CV player, is going beyond mere sponsorship. The company will act as a catalyst, promoting the sport, encouraging and developing young and rising sporting talents, enabling them to achieve their aspirations.
The film Desh Ke Truck (The nation's truck) establishes TATA Motors' range of commercial vehicles as an integral part of a sportsperson's quest for perfection followed by success. The TATA commercial vehicle is an intrinsic part of the lives of athletes and helps every sportsperson shown in the film hone his/her skills. The vehicles also double up as a metaphor of perfection, inspiring every athlete to push the boundaries akin to these commercial vehicles that are unstoppable in the wake of challenges.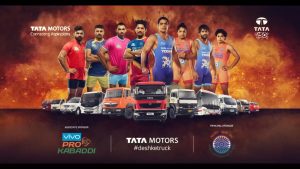 Conceptualised by Rediffusion, the campaign celebrates Tata Motors association with the Wrestling and Kabbadi Champions. This campaign will be promoted during the ongoing Pro Kabbadi League.
UT Ramprasad, Head of Marketing Communications, CVBU at Tata Motors, commented: "Tata Motors is the archetype trucking brand of India. It is truly the 'Desh ke truck'. And while for decades it has played a crucial role in ensuring the victory of the Indian economy, it was time it helped the country win in other fields of play too! Tata Motors Commercial Vehicle's association with sports is our acknowledgment of the undeniable and unstoppable 'sportification' of India. Trucking is made of 'sterner stuff', and so are champions!"
Pramod Sharma, Executive Creative Director at Rediffusion, added: "TATA Commercial Vehicles are the lifeline of India. Apart from goods, they carry emotions with them as well – be it Ganesha idols or sports felicitation processions, they are the heartbeat of India. Our idea stemmed from this insight."
Source: Rediffusion