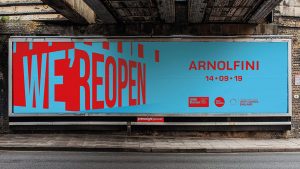 Following major new investment that secures the future of the gallery, Taxi Studio collaborated with Arnolfini and Arts Council England (ACE) for the relaunch campaign of the organisation's arts programme.
With the majority of previous communications being specific to their exhibitions, Taxi Studio's challenge was to a create a broader brand campaign to refresh people's perception of Arnolfini in and beyond the local community, and provide the organisation with a robust visual platform for all future brand-led activity.
The iconic corner of Bush House, Arnolfini's home for almost 60 years is recognised as a "cultural magnet" for the city's different artistic and social groups – and so it became the natural backdrop to a campaign that delivers vibrant visual disruption through punk inspired colour ways combined with witty world play.
The campaign's lead message 'WE'REOPEN', seen on 64 sheets around the city, wraps around the corner of Bush House to draw emphasis to two messages in one… WE'RE OPEN and REOPEN. Elsewhere rhyming copy lines have been deployed to succinctly communicate Arnolfini's offering to a wide variety of audiences who use and enjoy the venue for vastly different reasons.
The relaunch campaign runs from September through November, with the highly anticipated reopening event taking place on Saturday 14th of September.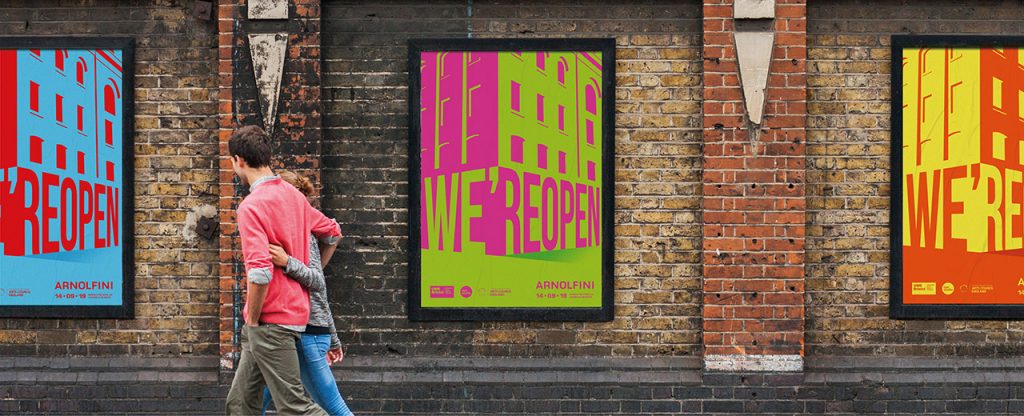 Source: Taxi Studio