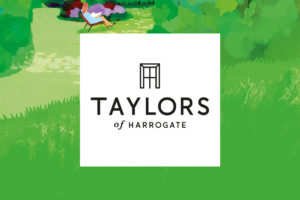 Taylors of Harrogate has unveiled a full rebrand to bring to life its focus on 'extraordinary flavour'. The new brand proposition, created with global creative agency Pearlfisher, includes the introduction of an evolved logo and vibrant new packaging designs across its tea and coffee ranges.
The rebrand will see Taylors' range of tea and coffee brought under one unified 'extraordinary flavour' proposition for the first time, inspired by the quality craftsmanship and vibrant creativity that have been pivotal to the Yorkshire-based brand since its foundation in 1886.
Taylors of Harrogate worked with creative agency, Pearlfisher to develop its new brand proposition. The new logo, which has been brought to the forefront of all products, is
To reflect the brand's position on 'craftsmanship' – a focus on the makery and innovation, as opposed to simply the visual expression of 'craft' – Pearlfisher centralised the packaging for each range around exquisite, hand-drawn illustrations, commissioning three artists from different corners of the world to bring a unique aesthetic to the packaging expression.
Marketing Director at Taylors of Harrogate, Dom Dwight, said: "We're incredibly proud to share the new Taylors brand proposition. We've always been committed to crafting extraordinary flavour so we're excited to bring this to the forefront of the brand through a unified redesign and some truly unique new blends and flavours. The tea and coffee market is fast moving and ever changing – it's more important than ever for us to be bolder and brighter, demonstrating our creativity and craftsmanship through new taste experiences and beautiful, eye catching packaging."
Jonathan Ford, Founding Partner and CEO of Pearlfisher, said: "We've worked in partnership with Taylors of Harrogate for almost a decade and we're genuinely excited to have helped define the future direction for such an iconic British brand. By revising the brand's focus from 'craft' – which has become a jaded concept in almost every category – to 'craftsmanship', we've brought the Taylors story of artistry, 'makery' and innovation to the fore with clarity and confidence. We commissioned artists from far-flung corners of the world to create the beautiful illustrations upon which the new aesthetics for each range are based, and couldn't be happier with the final designs – considered yet contemporary, traditional yet progressive, just like Taylors of Harrogate itself."
Source: Pearlfisher