The global TBWA network has released a powerful campaign in conjunction with International Women's Day to stress the importance of recognizing women's issues as everyone's issues, most crucially in the workplace, and to echo the International Women's Day 2016 dedicated theme: A Pledge for Parity.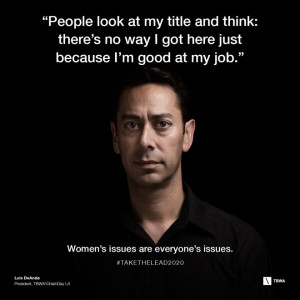 The campaign, branded 'Take The Lead,' includes a poignant two minute film featuring men from around the global TBWA network, from all levels, specialties and backgrounds, reciting actual quotes from their female peers.
The quotes were solicited via an anonymous global survey in which women in the industry were asked to voice some of the issues and injustices they have faced, or expect to face, throughout their advertising careers.
Today, TBWA regional offices around the globe are activating the campaign both in their offices and via social media with physical and digital posters and banners, and well as localized 15 second films.
The 'Take The Lead' campaign was born out of observations that, despite the recent and welcomed surge of female-focused equality initiatives, the industry continues to lack the critical mass of male counterparts to champion the cause for equality.