Nissan is the official global automotive sponsor of the UEFA Super Cup and UEFA Champions League, with a deal covering the periods from 2014/2015 to 2017/2018. With the Nissan Controller, created by TBWA\Helsinki, fans will be once again at the heart of Nissan's partnership. The Controller looks to engineer unexpected moments of fan excitement to enhance their experience of Europe's most prestigious football competition. It plays on the excitement fuelling the automotive and football worlds to create an innovative experience.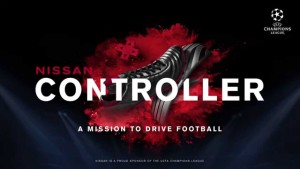 Fresh ideas and technologies lie at the heart of Nissan's model development and have inspired the brand to create its ground-breaking Crossover models. Following the promise — "Innovation that Excites" — the company has brought together a team of intrepid car engineers, gamers and UX designers to combine Nissan's driving interface with a gaming console controller. The project is a perfect example of Nissan's fresh ideas and desire to challenge conventions.
Nissan has invited game influencers around the world to support the development process of Nissan Controller and in November, football fans will be able to steer the PES 2016 players with a Nissan Qashqai, offering the players a thoroughly unique experience.
Nissan Controller will be launched during UEFA Champions League game between Malmö FF and Paris Saint-German on the 25th November. Football fans will get a unique opportunity to use Nissan Qashqai to steer their favourite PES 2016 players and experience a gaming innovation never seen before.