TBWA\NEBOKO, creative partner of Global Running, helped create a global campaign for the latest UltraBOOST running shoe and an activation that raises awareness for the threat of marine plastic pollution.
Eight million tons of plastic ends up in the ocean every year. adidas believes that, through sports, we have the power to change lives and also the world. The sports brand puts those words into action again in 2018 with the .
The shoe's upper knit is made of Parley Ocean Plastic, a proprietary textile made from recycled plastic retrieved from our coastal communities and beaches. Each pair prevents approximately 11 plastic bottles from entering the oceans. adidas has been working with Parley for the Oceans, an organization that raises awareness about the beauty and fragility of the oceans, since 2015.
To help support the launch of the UltraBOOST Parley TBWA\NEBOKO partnered with Psyop and Golden Wolf to create an eye-catching animation. In the stop-motion video the upper knit is used as a canvas. On it the creation story of the UltraBOOST Parley is told through beautiful embroidery. The content is being rolled out through adidas channels in cinema's, online video, social, in-store and print.
In addition, TBWA\NEBOKO created a global toolkit for Run for the Oceans. In the activation communities are called upon to unite in one movement to raise awareness for the threat of marine plastic.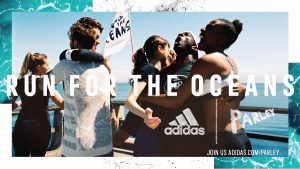 Growing their commitment beyond a local activation to a global initiative, TBWA\NEBOKO developed creative assets to compliment the roll out to six key cities. To participate runners join on the GPS running app Runtastic. In China runners contribute their kilometers on the Joyrun app.
TBWA\NEBOKO produced a suite of video content and an extensive toolkit together with director R.J. Sanchez of SNOW BEACH and photographer Sophie Hemels of Cake Photography. The content features local adidas running communities and influencers taking the first step and setting the right example.
Source:Â TBWA\NEBOKO