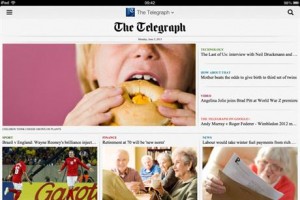 Telegraph Media Group has partnered with Halifax to create the first campaign on its Google Currents edition.
The deal, brokered by MEC, is also the first to use The Daily Telegraph's integrated tablet proposition, which offers brands access to its rapidly growing iPad, Flipboard and Google Currents subscribers.
The partnership runs for one month, and will see its Value campaign feature through a combination of credit card, mortgage and current account full-page interstitial advertisements, across all three platforms.
The magazine-style design offers readers high-speed and offline reading of Telegraph content and includes features such as quick-touch sharing. Google Currents also offers brands new audiences, using mobile devices and the additional ability to track campaign performance using Google Analytics.
The Telegraph's Google Currents edition continues the publisher's commitment to exploring new revenue streams through its extended mobile and tablet proposition.