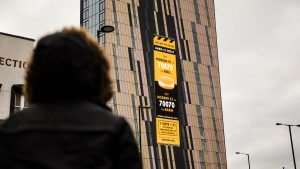 An interactive billboard posed to answer Manchester's most divisive questions has just been unveiled by The Social Chain Group, in support of the local charity, Centrepoint.
Located on the Axis in Deansgate Castlefield, next to Beetham Tower, the digital billboard was created by the influential social media agency as a way to "gamify" the donation process. Members of the public will be encouraged to text their vote on polls such as; Liam or Noel; red or blue; roll or balm; with results unveiled on the billboard every evening.


With homelessness on the rise in the city –  figures show 5,564 people are homeless across Greater Manchester – The Social Chain Group opted for a unique way of touching on the problem. It was decided that healthy debate should be a way to raise awareness and money for the city's rough sleepers. With Manchester being such a diverse and populous city, Social Chain decided to Put To Bed – the initiative's motto – the debates that have waged on for years, such as which Manchester football team represents the city best.

Every day, The Social Chain Group's creative team will design a new poll which will appear on the billboard. Members of the public can cast their vote by texting MCRB66 to 70070 to vote for their preferred answer and will subsequently donate £1 to Centrepoint. The winner of that poll will be announced at 5pm every day on the billboard and on social media. The first major vote – barm or bread roll – is a play on the regional variations of bread roll.

Kiera Lawlor, director of happiness & people The Social Chain Group, said: "Alliance, the media company who won the billboard advertising rights, approached us as it wanted to work with a local tech business to represent Manchester. The agency has a 9:16 video department specialising in vertical video content for brands and saw this as a fantastic opportunity to put these specialities to a charitable cause. We're looking forward to raising money for a good cause through a creative initiative."

Rocio Galan, Strategy Manager adds, "The team pulled together the idea in 20 minutes after the initial conversation with Alliance. As a business, we do everything we can to give back to the community in Manchester and this is just one example of what we do."
The billboard will be live on the Axis in Deansgate Castlefield until the 4th of February.
Source: The Social Chain Group