There are over 10 million weddings in India every year. Increasing by 30% year on year and a lot of gifting happens during this season. The Womb, a premium advertising and innovations agency, identified this as an opportunity to position Saregama Carvaan as the perfect gift.
It was important that the brand identified an existing gifting moment, rather than create a new one. 
In North India, the meeting of key family members of the Bride and the Groom on the day of the wedding is called 'Milni'. This is carried out by the Bride's family handing out gifts like Suitings, Watches, etc to the Groom's family. The idea was to position Carvaan within the setting of 'Milni / shaadi' (wedding).
Saregama Carvaan, as a gift, makes one come across as thoughtful or someone who has eschewed more mundane and regular gifts in favour of something that touches the heart.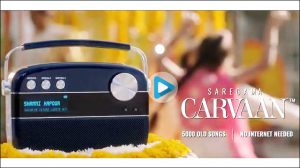 Kawal Shoor, Co-Founder, The Womb, said, "We thought this was a great way to position Carvaan within the ritual of 'Milni'. Such rituals inherently bring along a lot of awkwardness within the family members. Milni is like the marriage of two families, you have no option but to like each other. Mostly forcibly! And Carvaan with its 5000 evergreen songs, can be the ice breaker and the thoughtfulness of the gift makes it easier to like the other person."
The ad begins with the father of the bride airing his concern that there seems to be a lot of difference between the cultures of both the families (the bride is from South India and the groom from North India). The bride tries to calm her father but in vain.
In nearly all Indian weddings, there's a special song and dance ceremony. The dance ceremony in this ad is called Bhangra; a traditional folk dance, which is seen in almost every north Indian wedding.
The 'Milni' ritual begins which show clearly discomfort between the two families when they meet. The father of the bride then gifts Saregama Carvaan to the groom's father, who wonders what the gift is all about. The bride's father explains that it is a 'Milni' gift. A bit hesitant initially, however when the groom's father switches on Saregama Carvaan, a foot-tapping classic plays out loudly, which eases all tension between the two families!
Source: The Womb