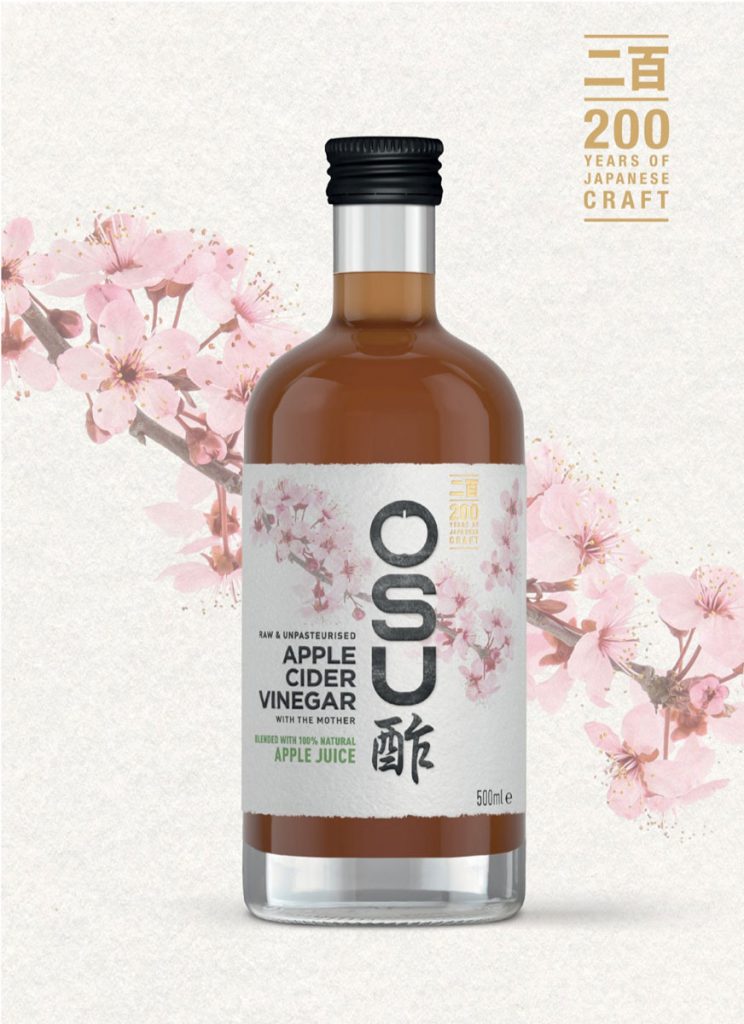 As the demand for all natural, healthy foods with provenance continues to rise, the centuries-old practice of drinking ACVs (Apple Cider Vinegars) is experiencing a popular resurgence.
Japanese culture has a long history of consuming drinking vinegars as a healthy daily habit, handed down through the generations, with claims that there are multiple benefits to be had with drinking it regularly.
Mizkan was established, in Japan, back in 1804, and the company has since grown to become a global leader in brewing vinegars. With over 200 years of expertise behind it, Mizkan is launching Osu – a raw & unpasteurised Apple cider vinegar, blended with apple juice to make it more palatable for everyday consumption.
This Way Up, London-based brand and packaging design consultancy, has created a captivating visual identity that promotes the brand's heritage and philosophy and crafted a unique wordmark containing the apple silhouette to represent the 'mother' protein found within the raw ACV.
"Osu is all about drawing on nature and the beauty of life to help consumers find the perfect, internal balance." Said David Pearman, Creative Director & Founding Partner, This Way Up. "We wanted to root the brand back in its original home of Japan, where drinking ACVs has been a ritual for centuries, and help the category find a home here in the UK market."
Rintaro Nishimura, Brand Manager for Osu, said: "I'm really excited to launch our new brand OSU, which enables us to invite more people into the category with great taste. I'm also proud of introducing Japanese daily habits to the UK market. I hope that many people bring OSU into their lives and enjoy an "OSU moment" every morning as a new daily habit!"
Source: This Way Up