The Big Shot launches Tommy's new campaign #AreYouReady for pregnancy – Tommy's first ever pre-conception campaign in partnership with Public Health England (PHE), the Royal College of Obstetricians and Gynaecologists (RCOG) and the UCL institute for Women's Health.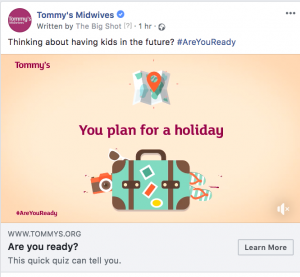 The integrated digital campaign will go live across Facebook, Instagram and Youtube and will educate women about the importance of pre-conception planning as a factor in having a safe and healthy pregnancy and raise awareness to of Tommy's new digital tool 'Planning for Pregnancy' where there's a myriad of information about pregnancy planning.
The Big Shot has created and produced two videos, one featuring real women and one animation. Both films are designed to highlight how much time, effort and energy women put into planning events like holidays, weddings and moving home versus how little time they spend on pregnancy planning.
The digital tool is positioned as a handy healthcheck for women whenever they start to think about planning a family or having another baby. It gives advice on a range of topics from living a healthier lifestyle, to when you should start taking folic acid. You can also sign up to email notifications and continue getting support, help and advice along your journey to pregnancy.
"Our goal is to prevent avoidable pregnancy loss and improve the safety of the mother and baby during pregnancy. We know that lack of folic acid, smoking, inadequate nutrition, lack of physical activity and having a high BMI are all things that contribute to negative pregnancy outcomes, and it's almost too late to tackle these after conception," said Jane Brewin, Tommy's Chief Executive.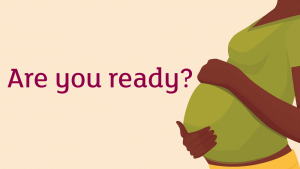 "Once women and their partners are pregnant they get a wide range of information from all sorts of sources, but in the pre-conception period, when they are not talking to health professionals about their intentions, it's much harder to make sure they are informed about things they can do to reduce their risks. This tool has been created to address that gap in information. This is not about guilt or blame, it simply provides the information and support to allow women to make informed decisions."
James Erskine, Managing Director, The Big Shot said: "This campaign raises awareness of all the things a woman can take or do in the pre-conception period to decrease the risk of complications during pregnancy and gives women tailored advice about topics including mental health, alcohol, smoking and weight control in the lead up to stopping contraception or in the period between stopping contraception and becoming pregnant. We are incredibly proud to be working with Tommy's on this campaign in support of women's well-being."
Source: The Big Shot