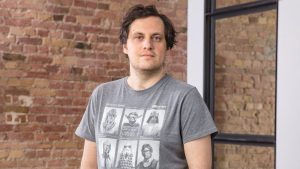 Mihai Gongu, former Creative Director at Jung von Matt in Berlin, joined starting September 15th the Shanghai-based creative boutique agency TOMORROW as Executive Creative Director.
In his role at JvM, Mihai has coordinated creative output on BMW, MINI, Thomas Cook Airlines and Sixt accounts. Prior to this, he held ECD roles in BBDO and GMP, was a regional creative director on Mars and a group creative director in the Allianz Worldwide team.
Across his career, Gongu has picked up over one hundred gongs at major international award shows,
including a Eurobest Grand Prix in PR and a D&AD Yellow Pencil in Brand Experience, and also several Gold medals at New York Festivals, Clio and AdStars. Under his leadership, GMP was twice awarded Independent Agency of New Europe at Golden Drum.
He has also served as a jury member in various international festivals including NYF, The Intercontinental Cup, AdStars, AutoVision, ADCE Awards and Eurobest, and has been a jury president at Golden Drum. He was also a teacher of integrated campaigns at the Miami Ad School in Berlin and the Cannes Lions Academy.
Commenting on his decision to join TOMORROW, Mihai remarked, "I admire the impressive roster of clients that Rogier and the team have managed to attract with their passion and hard work here at TOMORROW. Brands like Absolut, Ballentine's, New Balance, Skullcandy and Dynaudio, to name just a few. I am happy to join a digital-first agency which dares to explore ideas beyond digital, in all sort of unconventional ways. A place that is moving at the speed of culture, not just solving business problems, but also bringing nation-wide fame to the brands in its portfolio."
Source: TOMORROW