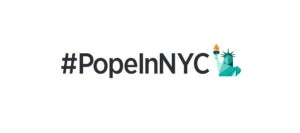 Twitter has rolled out a series of emojis to celebrate Pope Francis' visit to the US.
When users tweet the hashtags '#PopeinUS,' '#PopeinDC,' '#PopeinNYC,' and '#PopeinPhilly,' small images of Pope Francis in front of the US flag, the US Capital, the Statue of Liberty, and the Liberty Bell appear respectively.
The pope arrived in the US on Tuesday September 22, and will visit the White House on Wednesday before heading to New York and Philadelphia.
This isn't the first time Twitter has made specialized emojis. Recently, those who tweeted about the MTV Video Music Awards using the hashtags '#VMA' or '#VMAs' saw a very tiny moon man pop up next to their tweets.
The social platform also partnered with Disney and Lucasfilm earlier in 2015 to create Star Wars emojis ahead of the release of 'Star Wars: The Force Awakens.'