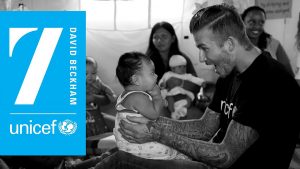 After having met with several agencies for chemistry meetings and ending with a competitive pitch Unicef UK, the world's largest children's charity, has appointed the community London as its strategic and creative partner, effective immediately.
"the community inspired us with their unique understanding of the world and their perspective on how we could bring our purpose and core mission to life in the most powerful and meaningful way," said Sophie Gallois, Deputy Executive Director for Communications, Advocacy and Programmes at Unicef UK.
"We want to be clearer about what we stand for, and communicate the impact we, together with our supporters, have on children around the world and their future. the community really helped us to express this in a way which felt true to our values, and really powerful emotionally. We can't wait to see what this partnership will bring."
Ryan Lietaer, VP Managing Director at the community commented: "There is nothing more important than the safety and well-being of children around the world and there is no organisation doing more to help children everyday than Unicef. We are very proud to be chosen as Unicef's partner and to have the chance to make a meaningful contribution to this great cause."
the community, part of Publicis Groupe, will launch the campaign to Unicef's network of influencers and internal stakeholders from June and begin to deliver fully integrated external communications from September.
Source: the community London