Oath announces that Volkswagen is to sponsor its new Yahoo Sport football video series "The 32" that will bring football fans closer to the action in Russia this summer. Working with the brand's media agency PHD Media, the sponsorship will see Volkswagen taking 100% share of voice on-page against the coverage on Yahoo Sport in the UK. The deal will see Volkswagen engaging Yahoo Sport's premium online audience as part of its broader marketing activities.
Sweta Dusara, Communications Manager at Volkswagen said: "We are delighted to be sponsoring this great content with Yahoo Sport, part of our broader programme of aligning Volkswagen SUVs with the beautiful game. 'The 32' fits perfectly with our brand's tone-of-voice and gives us an ideal environment to showcase our brand new 'Complete Confidence' SUV campaign."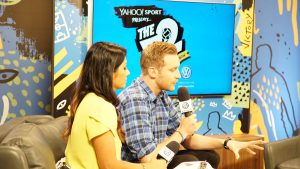 Mark Melling, Head of RYOT Studio EMEA, Oath said: "'The 32' is a fantastic example of the original, quality content that Oath produces across its globally-renowned brands. This fun show with a great line-up of talent will bring fans closer to the thoughts and feelings of other fans and experts from all 32 countries involved and on the ground in Russia itself through original video designed to augment their tournament experience. We're excited to share this experience with Volkswagen as our partner."
Presented by sports journalist and broadcaster Reshmin Chowdhury and broadcaster Toby Tarrant, 'The 32' will stream live on the Yahoo Sport app and yahoo.co.uk at 8.30am BST every match day, making 'The 32' the perfect place for fans' football fix on the move. The series will also be available to fans around the world via Yahoo's global editions. Each episode will be available immediately following the live show to stream online or via the Yahoo Sport app, and will feature big name guests from across the world of football.
Filmed in front of a live studio audience including fans from, and supporting, each of the 32 participating nations, the series promises to bring insight, analysis, irreverence and fan views. Alongside the latest football news, 'The 32' will bring fan culture and flavour direct from the venues in Russia with reporter Peter Hall as well as fan reactions in London.
The studio in London will welcome big name guests from the world of football, who will discuss the major tournament news, results, team selections and gossip, whilst the team behind live show and podcast Jim & Dave Have Lost The Dressing Room, Jim Daly and Dave Bibby, will bring their unique take on the tournament.
Source: Oath