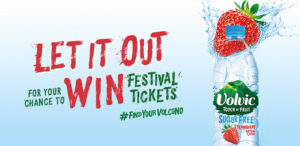 Experiential agency Closer has launched a campaign to drive brand awareness for Volvic's 'Touch of Fruit' and 'Juiced' ranges among a millennial audience.
The 'Let it Out' initiative plays on the volcanic origins of Volvic bringing to life an eruption of fruity goodness whilst encouraging millennials to express their inner optimism and positivity through a memorable, shareable branded experience
At the heart of the shopping centre activation is an interactive 3D photo booth and giant video wall carrying iconic brand assets and vibrant refreshment cues. Consumers will be challenged to share their 'Let It Out' moments from the photo booth using a variety of fun and playful props with a festival feel to encourage participation and shareability.
Every participant who 'Lets it out' will have the chance to claim a Volvic stereoscopic GIF by sharing on a social media channel of their choice. The GIFs will also appear live on the big screen for on-site fame, bringing to life those iconic 'Let It Out' moments for both brand and consumer at the explosive moment the bottle erupts. Each and every participant will then have a chance to win festival tickets using #FindYourVolcano. Participants will then be rewarded with a Volvic 'Touch of Fruit' or 'Juiced' bottle of their choice and passers-by will be offered a sample to grab on the go.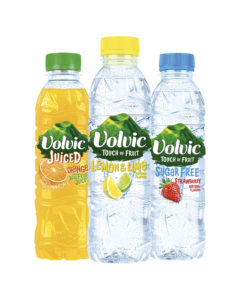 The images taken will be served direct to users' social channels, while geo-targeted posts will be delivered to social platforms in the local vicinity to support the activation.
Liz Richardson, managing partner of Closer, said: "Volvic's 'Touch of Fruit' and 'Juiced' ranges are all about delicious refreshment and optimism. We wanted to communicate this to a millennial audience; our 'Let it Out' campaign with its interactive 3D Photo Booth is a brilliant way to engage this difficult–to-reach-audience in a fun, memorable activity they can share for extra talkability."
Tom Hickton, head of marketing for Volvic commented: "This activity marks the continuation of a great working partnership we have with Closer across a range of our brands. We're really excited to be launching this latest experiential campaign for our flavoured Volvic range and can't wait to bring thousands of "Let It Out" moments to our consumers this summer."
Activity will kick off at Leeds Trinity on the 22nd July and 23rd July before moving to Westfield Stratford in London the following weekend.
The 'Let it Out' drive marks Closer's continued partnership with Volvic, which has seen the agency activate campaigns across the Tough Mudder sponsorship, Volvic Aquadrinks and Evian over a three year period.
Source: Closer