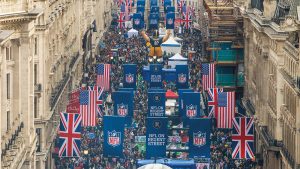 Wasserman, the global partnerships and activation agency, is helping The National Football League (NFL) take over one of London's most iconic locations this Saturday (September 8), as it celebrates the start of the 2018 season with 'NFL Kickoff on Piccadilly'.
The free event will see Piccadilly closed to traffic as it becomes a hub of NFL and entertainment activities during a day-long festival to mark the opening weekend of the season. It will run from 12- 6pm and feature a host of experiential activations, including; on-stage entertainment, displays from NFL cheerleaders and mascots, a family tailgate area featuring NFL-themed games, a kids' zone with an NFL mini-pitch, and an NFL pop-up shop stocked with a wide range of merchandise.
Against this backdrop will be a screening of February's Super Bowl LII, complete with explanations and analysis by NFL experts, including the BBC's Osi Umenyiora and Jason Bell, and Sky Sports' Neil Reynolds. There will also be appearances from NFL legends at the event, including the opportunity for fans to attend Q&A sessions and signings.
The NFL has worked with Wasserman's experience division for 9 years to bring big events to London, but this is the first time an event has been staged on Piccadilly. It also marks the first time a major fan event has been staged to mark the start of the 2018 season.
'NFL Kickoff on Piccadilly' will be the most family and music-orientated NFL event and aims to appeal to everyone, regardless of whether they are already fans of American football. It's designed to build excitement both for the start of the NFL 2018 season, and for the NFL London Games Series, which will take place in October.
"This will be a fantastic way to launch the new season," said NFL UK managing director Alistair Kirkwood. "The NFL has a great reputation of staging engaging fan events in London – at locations such as Trafalgar Square and Regent Street – and we are excited about the opportunity of taking over Piccadilly. The planned activities will appeal to everyone, whether they are currently NFL fans or not, and we are looking forward to a day of fun, football and family entertainment that will be a great celebration of our sport."
Paul Southby, executive director at Wasserman, adds; "Nothing is more American than the NFL, and Piccadilly Circus is one of the UK's most iconic locations. NFL is again showing how committed it is to London's west end, and it's great to be bringing these cultural touchstones together to celebrate a great day of fun, football, and family entertainment."
The NFL London Games series will feature three match-ups: Seattle Seahawks vs Oakland Raiders at Tottenham Hotspur (October 14, 6pm), Tennessee Titans vs Los Angeles Chargers at Wembley (October 21, 2.30pm), and Philadelphia Eagles vs Jacksonville Jaguars at Wembley (October 28, 1.30pm).
Source: Wasserman