Booking.com reveals 'Best 2016 Ever' a campaign that encourages people to turn their most likely doomed New Year's resolutions into awesome reservations.
Resolutions are boring and predictably headed for failure so this New Year Booking.com is encouraging everyone to make reservations not resolutions, in order to actually live their dreams and make 2016 their Best 2016 Ever. At the heart of the brand's new campaign is a tool that does just this; the Resolution Translator is a mobile-first interactive service that translates tedious resolutions into affirming travel based goals. Because why would you want to just lose weight, when you can loose weight and then commit to show off your hot new bod in Costa Rica?
Created by Wieden+Kennedy Amsterdam the campaign also includes a 30-second movie-style trailer TVC that depicts the epic travel possibilities 2016 holds, along with online and social executions. All of which drives and encourages people to take action with the Resolution Translator.
"Knowing that the New Year is always a time where people set resolutions of all types—with many inherently linked to travel – we wanted to create something to help people uncover the coolest places to visit and help them make their resolutions a success," says Pepijn Rijvers, Chief Marketing Officer. "At Booking.com, we want to go beyond the ordinary and our Resolution Translator is just one way in which we are leveraging the power of technology to help people experience the world."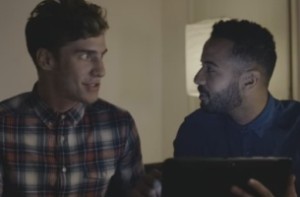 Visitors to the Resolution Translator, which was created in partnership with StinkDigital, are first prompted to enter their resolution; the tool then immediately serves up a unique translated resolution that combines bettering ones self with travel. The personalized result is then sharable across the users' social channels and a destination relevant to the revamped resolution is also instantly accessible to inspire the user to commit to their resolution and unlock their 2016 travel greatness.
Genevieve Hoey, W+K Amsterdam Creative Director, says: "Resolutions are okay. Reservations are fantastic. The Resolution Translator takes the magic of the former and adds it to the latter. It makes bettering yourself better by combining it with travel."
The Best 2016 Ever campaign launches across the United States and United Kingdom. Fans can view the TVC on Booking.com's YouTube channel now, and anyone in the world can use the Resolution Translator because a good resolution deserves a great reservation.