Schutz, one of Brazil's largest footwear labels, has launched their new branding concept and "BECAUSE" marketing campaign, created in partnership with Yard NYC.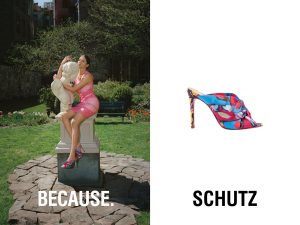 With the upcoming opening of the brand's largest pop-up shop to date in the heart of New York City, the campaign is designed to launch Schutz's first major marketing push in the US and celebrate it as a more diversified brand – both in terms of product and geography.
To support this launch and initiative, Yard NYC's strategy focused on developing a concept and a campaign that would help expand Schutz's reputation, reconnecting with its Brazilian and global audiences and building greater recognition amongst American consumers as the 'world's best-kept secret' in footwear. This led to the development of "BECAUSE," a freshly conceived creative platform born from the insight that you don't have to explain yourself.
"BECAUSE" taps into the changing nature of sexy, asking the question of what exactly does it mean to be and act 'sexy'? And who is it for? The attitudes embodied in the Schutz brand and new campaign attempt to find an answer to these questions, revolutionising the way we think about 'sexy' and/or 'acceptable' footwear.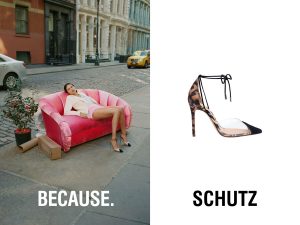 Inspired by and emboldened by Schutz's Brazilian heritage, "BECAUSE" channels the behaviours that define the new type of sexy emerging in culture. In a world that blends of spontaneity, sensuality, satisfaction and smarts, BECAUSE is a campaign for women that know that their first instincts are usually right, and follow them.
The brand tapped Adriana Lima, a notable Brazilian-born supermodel in both North and South America, as the company's campaign star and brand ambassador. For the first edition of the new campaign, Lima was lensed in four separate scenarios. The series captures moments of stylish irreverence and spontaneity on the streets of SoHo, New York City.
This will appear in the company's stores, digital mediums, and in high-visibility outdoor locations in downtown NYC. Two more releases will be revealed over the coming year featuring Lima. The brand is aiming to target everyone from fashionistas to professional working women, all of whom love a beautifully designed and Brazilian-made shoe. Schutz's "BECAUSE" campaign will run on all paid social (paid and organic); digital (in-store and online); and OOH.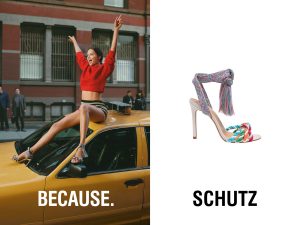 Stephen Niedzwiecki, Co-Founder & Chief Creative Officer, Yard NYC said: "We were inspired by the brand's Brazilian roots – the feeling of spontaneity, freedom and boldness that's native to the country. It's about tapping into sensuality and satisfaction. At its core, BECAUSE is about letting go and doing everything you've always wanted to. We want to inspire our consumers to spend a little less time listening to the rules and a little more time listening to themselves. And their instincts. Why? Because."
Alexandre Birman, CEO, Schutz added: "With BECAUSE, Schutz is stepping into a new chapter within the American marketplace. We are looking forward to rolling out the campaign globally over the year, with Adriana as our ambassador."
Source: Yard NYC