Young & Laramore, Sibling Rivalry's Joe Wright and Echo Lab's Gavin Little announce a national campaign for Trane to romance the world of HVAC.
As the preeminent brand in the HVAC category, Trane has long been associated with its ability to run through anything. Young & Laramore was tasked with telling a deeper story of the extreme testing every Trane product goes through to become unstoppable.
From freezing temperatures to extreme heat and pouring rain, every Trane is tested to run through anything. They never stop pushing their products until they never stop, and can live up to their tagline: It's Hard to Stop a Trane.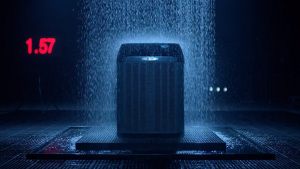 The "Relentless Testing" campaign focuses on these extreme and unyielding tests, and the end goal was to make the viewer feel worn out, like the unit, after watching the spot. Overall it's a sexy take on testing, taking a page out of automotive advertising for HVAC.
It rolls out in May 2018 and includes TV, digital video, radio, outdoor, print, digital banner ads. The first TV ads will air on May 25, across HGTV, DIY Network, CNN and more.
This is Y&L's second ad campaign for Trane heating and air conditioning, since winning the account in December 2016.
Source: Young & Laramore