Egg Films' Jason Fialkov directed First Kiss, a heartbreaking love story for the Western Cape Government. If you haven't seen it yet, stop reading and press play before we spoil the twist in the tale.
First Kiss tells the story of a young couple at a party, who spend their night trying to kiss but keep being interrupted. The final interruption turns a straightforward love story into a shocking road safety ad.
The Safely Home campaign by Y&R Cape Town has sparked heated discussions across traditional media and social networks about both the importance of wearing your seatbelt and the power of shock advertising.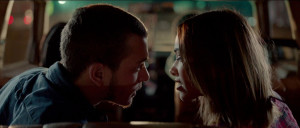 "A powerful and deeply moving message which illustrates what can be achieved by synthesising best practice and evidence-based decision-making with creative excellence and artistic craftsmanship." Hector Eliott, Strategic Co-ordinator for Safely Home in the Western Cape Department of Transport.
Y&R created a locally-relevant story inspired by an Irish strategy, which was credited as having brought about a 100% increase in backseat seatbelt wearing and 50% increase in front-seat wearing rates in Ireland and Northern Ireland.
The spot was shot in studio and on location in Woodstock and the Bo-Kaap in Cape Town. For the final crash scene, Jason worked closely with DOP Willie Nel, stunt coordinator Gideon van Schoor, and the post-production combination of Upstairs Ludus and Wicked Pixels, with Gravitron's Kobus Verhoef building a gimbal rig to tip the car 90 degrees in both directions to keep the cast's movements realistic and capture the sense of loss of gravity.