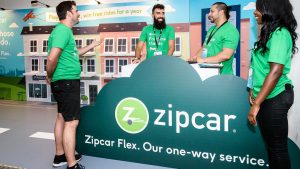 This summer, consumers across London will be invited to take part in a Zipcar Flex challenge, with the winners enjoying free driving credit for a year from the car sharing brand.
Run by global brand experience agency Sense, the campaign will use the game to introduce consumers to Zipcar Flex and drive acquisitions to the service. Zipcar Flex allows Londoners within designated Zipzones to pick up and drop off cars wherever's convenient, using an app to identify available vehicles.
"Our striking branded stand and team of Zipcar Flex brand ambassadors will be touring the Zipcar boroughs over the summer, inviting consumers to sign up to Zipcar Flex for the chance to win driving credit, whilst also showing them just how easy it is to get wheels when you want them," explained Sense Account Director Jess McGillivray.
Commenting on the campaign, Garry Thornton, Senior Marketing Manager at Zipcar said: "Experiential provides the perfect vehicle to spread the word about our new Zipcar Flex car service as it allows us to engage with Londoners directly in the numerous Zipcar boroughs."
The activation kicks off on 27 June and spans 24 days, ending in September. During this period, it will visit a range of events, shopping centres and train stations within the Zipcar Flex boroughs of Westminster, Hackney, Islington, Lewisham, Lambeth and Wandsworth.
Source: Sense