Summer's here. And life has migrated outdoors from the living room to the decking. To mark the opening of the outdoor season, Swedish wood protection company Sioo:X is putting its claim of unbeatable durability to the ultimate test by challenging their competitors in a 12-year product test.
The test will take place in a custom-built boxing ring with a wooden floor. One half of the floor is treated with Sioo:x's uniqe silicate formula, while the other half is untreated. Sioo:x's challenge to their competitors is simple. Come to the ring, apply your treatment and let battle commence.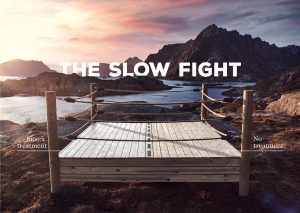 The boxing ring will be located in Lofoten, in the north of Norway – an area known for its extreme weather. For 12 years, the boxing ring will be subjected to the area's brutal climate, which will clearly show how well both surfaces stand up to the power of nature. Of course, there can only be one winner.
If you can't make it to Lofoten for the fight, don't worry, the entire event will be streamed live 24-hours a day here.
The campaign was created by Gothenburg agency Stendahls and is a continuation of last year's successful "World's most boring billboard" campaign, where the agency treated a wooden billboard with Sioo:x wood protection products and planned to leave it there for 12 years to prove the product's durability.
When asked why chose these unusual marketing methods, Sioo:x's Managing Director and founder, Herje Boström, replied: "It's simple. We want to show that our products are superior to our competitors in every way. And that takes more than pretty words and empty product promises. In 12 years, we'll see the results in black and white."
Source: Stendahls