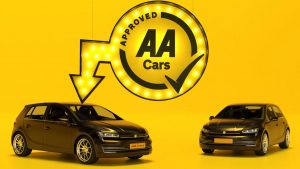 AA Cars, the AA's used car website, is launching a new marketing campaign to demonstrate how drivers can buy their next car with confidence thanks to its quality checks and the AA Dealer Promise.  
AA Cars' new consumer research has explored how customer confidence affects their car buying experience. It was found that customers who lacked confidence, or sought further reassurance, did not feel there was a brand in the market which met their needs.
The campaign's simple creative work therefore positions the AA Cars platform as the one which delivers consumer confidence by offering a stamp of reassurance for every one of its dealers and vehicles.
The new brand campaign emphasises how AA Cars provides critical car history and inspection reports through its online platform, as well as offering quality assurance checks on all its vehicles and dealers – a unique proposition that puts the information customers need most at their fingertips.
The campaign will target motorists already actively in the market to buy a used car. While other online platforms also advertise cars for sale, AA Cars ensures information about all its vehicles' history and inspections are prominently displayed – and removes any cars from its platform that have been stolen or written off. Additionally, all cars on the AA Cars platform are listed by trusted, AA-Approved dealers with no private sales taking place.
AA Cars, which bought the used car platform last year, worked with four agencies to deliver its new brand campaign, including creative agency adam&eveDDB, media agency Goodstuff, digital agency Croud and social agency WMG. Close collaboration between agencies enabled the creation of a cohesive campaign with the message that using AA Cars enables customers to 'buy your next used car with confidence'.
The research showed how 86% of customers are reassured by knowing a dealer is associated with the trusted AA brand, and the campaign will emphasise its strong relationship with the approved dealers who pass its quality checks.
AA Cars does not work with private sellers, meaning customers will always have protection under the Consumer Rights Act. The 2015 act safeguards customers buying a secondhand vehicle from a dealer by giving them a 'right to return' a car if it develops a fault in the first 30 days of ownership – or to ask for a repair in the first six months after it was bought.
Hannah Russell, Product and Marketing Director of AA Cars comments: "We're leveraging our data and customer expertise to deliver a through-the-line campaign that will target in-market audiences with a series of compelling messages as they progress from their 'research' phase to make a well-informed buying decision. Our aim is to educate our users on the benefits of using AA Cars as well as making it easy for them to actively choose AA Cars when they're ready to make a buying decision. This is the first significant advertising campaign since the AA bought the platform last year, and is expected to drive a significant shift in awareness within an in-market audience, as well as direct response impacting site traffic."
Source: AA Cars