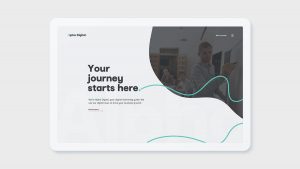 Alpha Digital has launched a new brand positioning and identity system in partnership with Type + Pixel.
Since its establishment in 2011, the digital marketing agency's growth has been fuelled by ongoing referrals and long-term partnerships. Alpha Digital now works alongside many of Australia's leading eCommerce clients, such as Pillowtalk, Petbarn, and City Beach.
The Brisbane and Sydney based agency teamed up with Type + Pixel to redefine the brand in a way that would reflect their advanced service offering and ambitious team.
SEO, paid digital advertising, and social media marketing are far more complex than when the company was established with just two laptops and $1000 cash in 2011. With programmatic advertising and AI changing digital's future, the rebrand needed to communicate how the youthful and results driven team stays at the cutting edge of an ever-evolving market.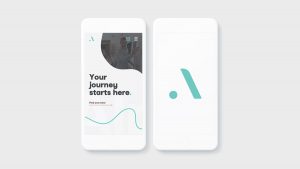 The new positioning defines a purpose for Alpha Digital that is founded on their commitment to elevating their work and the reputation of the digital marketing industry. By taking the industry and their clients by the hand, Alpha Digital's ongoing purpose is to move digital forward together. By simplifying the technical, they shine a light on new business growth opportunities, while demystifying the industry and fostering long-term relationships.
Alpha Digital's Managing Director Matt Cooper says, "The digital marketing landscape is becoming more complex and a higher level of technical expertise is required to deliver results. Our new brand identity needed to reflect our youthful team's ability to anticipate and adapt to continuous changes in the technical environment."
Alpha Digital's General Manager, Sam Wood lead the project.
"Whilst our old branding (with minor updates) has served us well for the last 8 years, we felt it no longer reflected who we are and where we're heading as an agency. The brand positioning and identity delivered by Type + Pixel much better represents the agency as a whole and all of the fantastic people within it. All of the creative delivered by Type + Pixel was informed by workshops with our whole team and through input from our clients. Though the new branding won't change the type or quality of work we produce, we believe it will better communicate exactly what we offer the market and how we're different from our many competitors," says Sam.
Type + Pixel are a brand and creative agency with a real understanding of digital and a focus on building authentic brands. Alpha Digital wanted the rebrand to be more than just a redesign, so the choice was a no-brainer.
Darren Walls, Founder & Director of Type + Pixel, had this to say about the project: "The new brand look includes vibrant greens, bold typefaces, and organic shapes to reflect Alpha Digital's collaborative and progressive approach to digital marketing. Intersecting elements have been used as a motif that signifies the boundless digital journey that every Alpha team member navigates for their clients."
"Alpha operates in a category where over-promising and under-delivering is par for the course. It was critical for us to ensure the new brand reflected Alpha's strong ethics. Committed to transparency, collaboration and genuine client partnership – Alpha really stands apart. Our role was to help them articulate this in a simple way that resonated with clients and employees alike and provided us with a platform for a new visual identity. The new Alpha purpose of 'Moving digital forwards, together' talks to all these points, it's about working closer, being transparent and pushing boundaries but ultimately reinventing the way the category is perceived too. We're really excited to see where Alpha Digital and Type + Pixel can take the brand over the next few years," continued Darren.
The new brand image was released across Alpha Digital's website, social media, and physical touchpoints in February.
Source: Alpha Digital