American Express is rolling out new creative, jointly-developed with beloved star and longtime friend of the brand, Tina Fey.
This is the next phase in a 360 communications plan to drive awareness of Pay It Plan It, a first-of-its-kind feature that gives 18 million US Credit Card Members more options for how they pay for the things they buy (like paying off the coffee you bought yesterday or splitting up payments for your new mattress over a few months).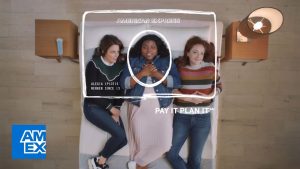 It was designed based on insights from the payment habits of Millennial Card Members, which have been fuelling its popularity since soft-launching last year.
In addition, this creative is part of an overall American Express pivot heading into 2019 of using above-the-line and talent to showcase products and services (the "how" American Express backs Card Members) now that the "Powerful Backing" brand platform has been established in the market.
In the :30 spot that will run across TV and digital, Tina humourlessly brings to life Pay It Plan It in an authentic shopping environment — mattresses are very hot right now!
Tina co-created the spot in partnership with American Express.
Source: American Express