London hotel, The Berkeley, teams up with production company, Armoury, to redefine drinking with an immersive new cocktail experience, Out Of The Blue.
'Out Of The Blue' is an immersive experience within a secret space in The Berkeley in Knightsbridge. Guests will enter a 360-degree projection environment where specially-designed film and molecular scents combine with world-class cocktails, to craft a bar experience that enhances the perception of flavour through sight, sound and scent.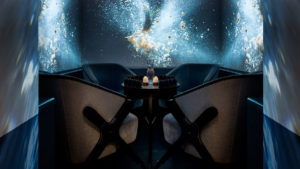 The concept stems from the theory that the context of a drink affects flavour. The Blue Bar has taken this idea further by curating a controlled environment that allows guests to explore flavour within a space where their senses are stimulated simultaneously.
The Berkeley partnered with London-based production company, Armoury, to create the four films that will pull cocktail aficionados into a new world of flavours. During the 30-minute experience, Armoury has reinterpreted the cocktails as abstract destinations, using the ingredients of each drink as the focal point of inspiration in order to create mind-bending landscapes.
Commenting on the process, Jack Laurance, Creative Director at Armoury, says: "We wanted to send the audience down a bit of rabbit hole – Alice in Wonderland style. The ingredients in each drink became abstract dream worlds that really encourage you to lose yourself in the experience."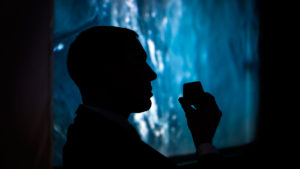 The intricate and surreal studio shots are complemented with real landscape footage Armoury captured on-location in Glen Etive and the Devil's Pulpit in Drymen, Scotland. During the six-day shoot, the production company shot at historically-rich locations, and captured 360-degree footage of the stunning Scottish Highlands using drones.
"This production has taken us from real world locations to entirely imagined ones," continues Jack. "The freedom that we've had to creatively interpret the drinks designed by Daniel and his team at The Berkeley has been very liberating, which is one of the best parts of this project"
Within the intimate space, films are projected in 360 degrees with bespoke ultra-short throw projector technology developed by Igloo Vision accompanied by molecular scents developed by sensory reality experts Sensiks, teamed with the films from Armoury have created, it is set to become one of London's most intriguing drinking experiences.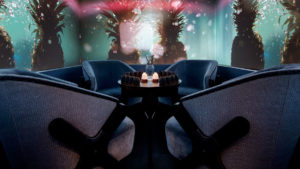 Daniel Baernreuther, Director of Food & Beverage and creative lead for Out Of The Blue at The Berkeley, says: 'From the very first meeting in which we shared the initial idea for Out Of The Blue with Jack and his team at Armoury, we felt they truly understood our vision and that we were in the capable hands of a creative mind that could bring our idea to life. Armoury's creative input and ability to work closely with us as a team, resulted in stunning visual, bespoke to this one-of-a-kind experience.'
'Out Of The Blue' opened on Wednesday 15th November with hourly slots between 5.30pm – 11pm, priced at £200 (inclusive of VAT) for up to four guests to experience privately.
Source: Armoury