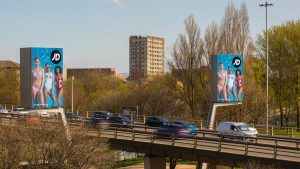 Ocean Outdoor has increased its presence in Manchester with new locations, a new office, more staff and the launch of the City's first ever Two Towers digital out of home (DOOH) structure which dominates The Mancunian Way.
Audi and JD Sports are the launch partners for Two Towers Manchester which goes live on April 23, reaching an audience of 3.6 million people along the elevated section of the A57. The double-sided towers capture access in both directions to Manchester's busiest inner-city motorway route.
Ocean has also launched the new Gateway Piccadilly, located on the principal route to Piccadilly Station, and has installed its pioneering vehicle detection technology on two roadside screens in London Road and Princess Road.
The launch of Two Towers Manchester brings the number of handpicked screens Ocean operates in the city to 14. In addition, Ocean has extended its smaller full motion network, called The Loop, to 40 screens, offering a combined city centre audience of 19.4 million.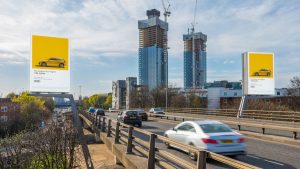 Connecting much of this infrastructure is SimplyFi, Ocean's fast and free wifi network connecting The Loop with other super premium screens in key retail and entertainment districts.
Richard Malton, Ocean chief marketing officer, said: "Out of home has made huge strides in Manchester over the past seven years, replacing static posters, outdated street furniture and old purchase models with dynamic screens, highly improved technology and the ability to purchase screen time according to the moment, the day-part or even what vehicle people drive. The Two Towers Manchester is another milestone in the evolving story of world class digital out of home which is designed to anticipate the needs of a smart, globally connected modern city that's really on the move."
As Ocean expands its footprint in Manchester, the premium out of home media owner has opened a new office in Charlotte Street which is managed by regional sales director Keith Crisp. Account manager Scott Webster has also joined Ocean Manchester in a regional sales role.
Source: Ocean Outdoor